Outlander (2014)

Written by: Diana Gabaldon, Ronald D. Moore
Starring: Bill Paterson, Caitriona Balfe, Duncan Lacroix, Gary Lewis, Graham McTavish, Grant O'Rourke, James Fleet, Sam Heughan, Stephen Walters, Tobias Menzies


Outlander
Season One – Episodes 1-8
Available to watch on Amazon Prime Instant Video
After the end of World War II, nurse Claire Randall and her husband, Frank, travel to Scotland for their second honeymoon to reacquaint themselves with each other after spending 5 years apart during the war. One morning, after a night watching a ritual dance at the stones of Craigh na Dun, Claire revisits the stones. Hearing a noise, appearing to eminate from the largest stone, she touches it and briefly falls unconscious. When she awakens, she finds herself in 1743 and after almost being raped by a Red Coat, is rescued by a Scotsman who takes her back to his fellow clansmen. Claire is a Sassenach, an outsider, and is suspected of being a English spy. The clansmen, led by Warchief MacKenzie, take her back to Castle Leoch where she becomes a guest, as a healer, in the grounds of Laird Colum MacKenzie until he sees fit to set her free. Forging a friendship with chivalrous highlander Jamie, nephew of Colum and Dougal, Claire has at least one ally in her new world but she must do everything she can to get back to the stone circle of Craigh na Dun if she wants to return home to her husband in 1945.
Romantic, thrilling period drama OUTLANDER is a mesmerising series from Starz, set and shot in Scotland. Telling the gripping tale of a woman who finds herself two centuries in the past, and is not only an outsider in terms of time but also nationality at a period of war between the British Red Coats and the Scottish Jacobite rebels, OUTLANDER treats the viewer to a journey that includes violence, love, family, political ideas and survival. As a viewer, you can only imagine how awkward it would be to be in Claire's situation and having to create an alternate past for yourself through fear of being branded a witch or a liar if you told the truth about your time travelling escapades, an experience even Claire can only just believe.
It's been a long time since I've been excited about a series such as this. Each episode is utterly captivating, from the stellar performances from the leads right down to the supporting cast, the detailed set design and costumes to the tightly written script and the breathtaking landscape that the characters traverse.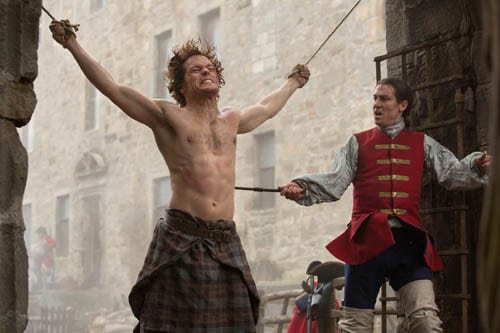 Tobias Menzies, who I last saw in the equally astounding series, Rome, stars as Claire's husband Frank. The opening episode sees Frank investigating his family tree, in particular his ancestor Jonathan 'Black Jack' Randall, a notorious and ruthless Red Coat who was responsible for many crimes during his service in the army during the 18th century. It's of no surprise that Claire meets the infamous ancestor when she travels back in time and experiences first hand his callous demeanor. Tobias Menzies is tremendous playing both the characters Frank and Black Jack, two polar opposite individuals with their own personalities. Despite their physical likeness, Tobias creates two distinguishable characters who the audience can empathise with and despise, respectively.
Stunning Irish actress Caitriona Balfe takes the lead as Claire Randall with a flawless English accent. Her beauty, charm and independence as Claire makes her a strong character, one that even surprises both the Scots and the English in 1743. Her forwardness and powerful will helps Claire take control of the situation she's found herself in and prove to others that she's no fool. Claire also has a softer side as seen when she tends to the wounds of the soldiers she keeps company with. Her experience as a wartime nurse in the army means she's not squeamish of the horrifying consequences of battle but her way of physically and emotionally mending the wounded gains her the trust and admiration of her fellow man. The first to experience her care is Jamie (an amazing Sam Heughan), a charming, brave young highlander with a price on his head. Wrongly accused of murder, he's wanted by the Red Coats and finds himself watching his back constantly through fear of further lashings or even death. Despite his own troubles, he vows to protect Claire from harm, be it from the Red Coats or his own people who have a dislike of the English. Developing a bond between herself and Jamie, Claire feels guilt about her husband, a man who's very much alive but not yet born in this time. Longing for the relationship and intimacy she's left behind, she starts to grow closer to Jamie.
The supporting cast includes Graham McTavish as brooding Warchief Dougal MacKenzie, Gary Lewis as Laird Colum MacKenzi, and Grant O'Rourke and Stephen Walters as Rupert and Angus, who provide comic relief now and then and are ordered by Colum and Dougal to watch Claire's every move. It's great to see a few familiar faces in the form of James Fleet (Vicar of Dibley, Kevin and Perry Go Large) as Reverend Wakefield in 1945's Scotland, Bill Paterson (The Witches) as MacKenzie's lawyer Ned Gowan and Annette Badland as Mrs Fitzgibbons, the cook of the Castle Leoch and the first woman to greet and look after Claire on her arrival to 1743. The other supporting cast and background characters are tremendous in their roles also, kitted out in the most amazing outfits, convincingly portraying life in both 1945 and 1743.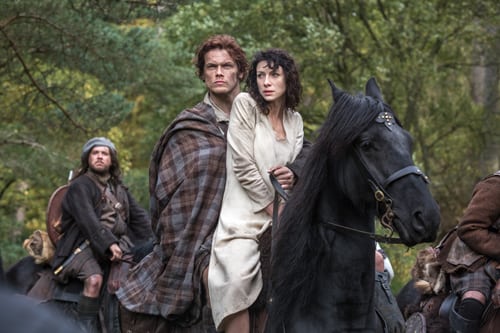 The use of colour throughout the series is interesting too. Much like time-travelling BBC TV series Life on Mars, the world away from Claire's own in 1743 is vivid and colourful, full of personality and adventure whilst shots of 1945 seem bleak and washed out. Of course there are other similarities to the aforementioned programme but Outlander is certainly a tale of its own identity, adapted from novels written by Diana Gabaldon, the first of which was published in 1994, many years before Life on Mars. Outlander is on a much grander scale too in terms of story, cast, design and location.
Whilst the script and visuals do a great job of telling the story, the narration by Claire throughout the series gives the episodes a personal touch, giving insight into what Claire is thinking. This is her life we're experiencing and the viewer is merely a fly-on-the-wall to what is going on but we empathise with her struggle of dealing with this new life in a different time. The question is, as time goes by, will she ever want to return home or will she have grown to love the land, the time and people she is forced to call home and 'family'?
Beautifully shot, with almost every scene a perfect picture if paused, OUTLANDER is proving itself a cut above the rest. If all television were like this, I'd never leave the house. The American networks seem to have a talent in creating quality programming and OUTLANDER is a solid example of this. With its emotional, exhilarating storylines that takes the characters in various directions, viewers will be gripped to the screen, eager for the next episode. After binge watching all first 8 episodes since its release on Amazon Prime Instant Video yesterday, I certainly cannot wait to see how the complicated story of Claire's unfolds and how her relationship between herself, Jamie, the MacKenzies, Black Jack and her husband Frank back in 1945 will develop.
The rest of the episodes will be released each Sunday starting 5th April 2015 on Amazon Prime Instant Video.
Rating: