Rollerball (1975)
Directed by: Norman Jewison
Written by: William Harrison
Starring: James Caan, John Beck, John Houseman, Maud Adams, Moses Gunn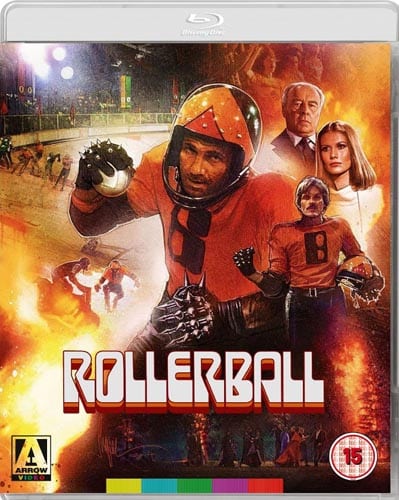 ROLLERBALL (1975)
Directed by Norman Jewison
Available on Arrow Video Blu-Ray from Amazon
Jonathan is the world's leading player of Rollerball – a tough-as-nails sport where players wearing skates and others riding motorbikes must work together as a team to thrust a heavy metal ball in the opposing team's goal. Played in a velodrome with players suited in body armour, the game requires skill, strategy and strength, especially as the players must prepare to bash others as well as take a beating themselves. With his team, Houston, heading towards the finals, Jonathan is looking forward to securing the win but he receives word from the executives – those who run the country and everyone's lives – that he must retire before the end of the season. With two more games to play before the end of the season and feeling at his peak, Jonathan is confused as to why he's being forced out of the game he loves. Unable to accept the decision that's been thrust upon him, Jonathan decides to ignore the executives but as he finds out, his decision is not without consequence.
Rollerball is a very clever movie. Away from the sports element of the film, Rollerball speaks volumes about political agenda and control. Being such a championed sportsman and adored by many, Jonathan starts to become bigger than the game and has his legion of fans who follow him and watch his every move. Jonathan essentially becomes a leader which is what worries the executives. Should Jonathan continue on this path of glory, then he will no doubt be able to sway opinion and inspire change to his followers which in turn could lead to a revolution, especially when Jonathan is known to dislike authority and yearns for freedom away from the corporate dictatorship. This type of "hero fights back against regime" attitude has been recently seen in The Hunger Games and is as more valid now than it's ever been.
From a sport point of view, the film is incredibly well shot. We see the brutal side of the game and how it's not for the feeble. Backed up by the mammoth Moonpie, who's drop kicks are well-known in the game, Jonathan leads his team in a calm, controlled manner, effectively disabling their opponents for optimum chance of scoring the all important points. The camera angles take all the game in from the second that the ball is thrust into the arena to the pressing of flesh up against the fence and the bloodied snot all over the angled wooden floor. You can see how physically demanding the game is and how lethal it can be, thrusting the viewer right into the game itself. As time goes on though, each match becomes more lethal and less sports-like. Suddenly we're heading away from the roughness of rugby and ice-hockey territory and venturing into blood-thirsty madness that wouldn't go amiss in an Ancient Rome arena.
James Caan is perfectly cast as Jonathan E. Though he has a quiet demeanor, the cogs are still turning in his brain as he's analysing the situation he's in and the potential reasoning behind it. His best friend Moonpie (John Beck) is more brawn than brains, relishing the celebrity status and fanbase that being a success sportsman acquires. He doesn't really think about choices made in life, he just obeys them and enjoys the comforts, but Jonathan doesn't like being controlled in this way. Having his life meddled with, including the choice of sexual partner, bothers Jonathan but will he do anything about it?
Arrow Video have released ROLLERBALL in beautiful, crisp high definition Blu-Ray with 5.1 audio and an optional 2.0 audio track. As with most of their releases, the Blu-Ray is loaded with extras to sink your teeth into including commentary with the writer and director, a brand new interview with James Caan on the role and learning how to skate to convince as an athlete,  the making-0f the movie featurette and behind the motorcycle stunts featurette as well as the trailer, teaser and TV spots. The Blu-ray release also features original and newly commissioned artwork by Paul Shipper and a collector's booklet featuring new writing on the film, illustrated with original archive stills and posters. Arrow Video never disappoint with their releases, so if you're missing Rollerball from your collection, then you'll want to get your mitts on this release.
A frighteningly relevant, ahead-of-its-time futuristic tale of slavery, Rollerball is a must-watch classic.
Rating: