The Signal (2014)
Directed by: William Eubank
Written by: Carlyle Eubank, David Frigerio, William Eubank
Starring: Beau Knapp, Brenton Thwaites, Laurence Fishburne, Lin Shaye, Olivia Cooke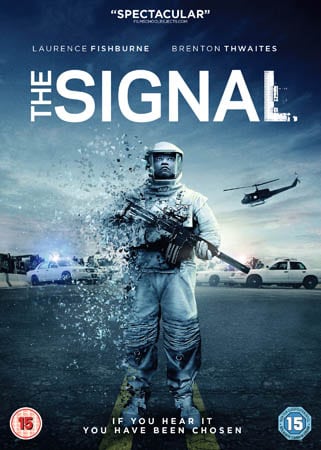 THE SIGNAL (2014)
Directed by William Eubank
Relocating for a year, teenage Haley is joined by boyfriend Nic and friend Jonah on a roadtrip to her new home. Halfway through the journey, computer geeks Nic and Jonah are contacted by the mysterious Nomad who framed a major hacking of MIT on the teens. After showcasing he has the ability to hack any of their computers, Nic and Jonah manage to lock down his location in Nevada. Desperate to catch the hacker who's been toying with them, the teens take a detour to Nomad's location but what they find is nothing what they had imagined.
Sci-fi thriller THE SIGNAL is a mind-bender of a movie. You think you know what's going on, but in the next scene you realise you have no idea. It takes you on a journey with the three youngsters and thrusts you into their shoes when all goes to pot. Awakening in a facility with no memory of the events that have taken place, the only clues given are by Damon (Laurence Fishburne), an hazmat suit wearing doctor who's testing and assessing the teenagers to find out what exactly went on at the little shack and if they are safe to the outside world. Much like the teens, the viewer is confused as to what's happened and must try and work out what took place in the desert of Nevada.
THE SIGNAL's trio of actors – Brenton Thwaites, Olivia Cooke and Beau Knapp –  are fantastic as the teens, particularly Thwaites who leads the film as Nic. Nic is the weakest of the bunch, physically, due to a disability which is never named but referred to. Hobbling around on crutches, he knows that it won't be long before he needs a wheelchair and figures that his girlfriend Haley will probably dump him, especially as she's moving away for a year. When they become embroiled in the Nomad incident shortly after arriving at his suspected location, Nic becomes the strongest character of the group and tries his best to lead the trio to the truth.
Though a slow-burner, THE SIGNAL is a gripping and exciting watch from start to finish. Original with its ideas and beautifully shot, the film is engaging and keeps you interested to see just what's around the corner. Laurence Fishburne adds a touch of Morpheus mystery as Damon who's not so forthcoming with answers to Nic's questions but is more interested in what Nic knows. A short appearance by Lin Shaye as a Jesus fanatic will also please genre fans.
There's lots to enjoy about THE SIGNAL and it really feels like a breath of fresh air in terms of originality and execution. It refuses to give answers at the start and instead allows you to try and piece together the puzzle before its shocking conclusion. I would've liked a bit of extra depth in the plot to strengthen it that bit more, but THE SIGNAL is a slick sci-fi movie as it currently stands and is well worth a watch.
Rating: