MORTAL KOMBAT X
Available on PC, Xbox One, PS4, Xbox 360 and PS3

20 years after Shinnok is imprisoned in his own amulet by Raiden, with the aid of Johnny Cage, Sonya Blade, Kenshi and Fuji, a new fight team consisting of the daughter of Johnny Cage and Sonya Blade, Cassie Cage; Jax's daughter Jacqui; Kenshi's son, Takeda, and Kung Lao's cousin, Kung Jin, must resolve civil war conflict ensuing in the Outworld between Kotal Kahn and Mileena, the latter of whom now holds Shinnok's amulet and threatens the entire Outworld and Earthrealm.
Fans of the Mortal Kombat series will be delighted by the latest instalment. With brutal and dangerous visuals, MORTAL KOMBAT X has given gamers a fresh, high definition world of Mortal Kombat with spectacular character design, top notch voice over work that syncs flawlessly to the characters' lip movement and those blood-thirsty finishers that the game is renowned for. This is a fighting game that wishes to involve players at all times, not only with its interactive environments and cutscenes, but by also introducing factions where, from the very start of the player's journey with Mortal Kombat X, the player must choose which faction they wish to belong to. Each time period, the player will be given challenges to complete, if they so wish, to earn points for their faction and the faction with the most points at the end of each time period will be rewarded accordingly. This is a terrific way of encouraging gameplay and feeling part of a team with others around the globe to try and work together and do your bit for your faction. Whether you decide to do the challenges or not is entirely up to you. There's often a koin reward anyway even if you're not the winning team by the end of the week, regardless if you've contributed or not. These challenges are pretty simple like "Fight two matches as Takeda" or "Play 3 Test Your Luck matches". So even before you official start, you've already become part of the game, ready to continue your kombat quest, be it single player, multiplayer or online.
MORTAL KOMBAT X has managed to combine a plot with cutscenes, interactive gameplay and fights to create an exciting, involving single player campaign. The campaign is split into chapters which flow into one another. Every now and then, when the action gets intense, the player will be prompted to press the button on the screen to attack or defend, depending on the plot thread currently being explored. When characters confront one another, they often exchange dialogue before the game enters player mode where the player will take the controls of one of the characters in a fight. These fights increase in difficulty as the single player campaign progresses, but it does so at a nice even speed to allow the player to get used to the controls and how the game works. If you find the fights too difficult and you simply cannot win, you can choose to skip the fight and continue with the storyline. The campaign will continue as normal should you do this, pretending you have won, but the only difference is is that you won't receive the stats or rewards (koins, etc) from actually playing and winning the fight legitimately.
In these recent years, my fighting game of choice has been Super Street Fighter IV: Arcade Edition but the storyline, controls and variety pale in comparison to the tremendous design of Mortal Kombat X. One of the main draws, for me, is that Mortal Kombat X is so much easier to play and control than Super Street Fighter IV. In this game, it's fairly simple to string a combo (or should I say 'kombo') together and to unleash some flashy moves. A simple push of the joystick in the correct directions followed by button and you can unleash fury upon your opponent. The pause menu has a shortlist of a few combos and moves to help you out should you get stuck, with the full move list just a click away so you add a bit of variety to your gameplay style and be extra competitive against the opponent.
Playing online is fantastic too. There's a variety of modes to play from player vs player, ranked matches, faction matches (5 players vs 5 players) and many more. I've found that I've been able to be competitive against other players online and not be totally thrashed as I have been on Street Fighter. The only down side is there seems to be some lag when playing against others online which can affect the gameplay somewhat.
Outside of online matches, theres plenty of single player modes to get involved with via the Living Towers section. There's timed towers, Test Your Luck towers, Test Your Might towers and endless towers. On one of the timed towers I played, both myself and AI controlled opponent were given very little HP and could only gain increased health by fighting and not taking any damage. With 5 opponents to get through, I played as franchise favourite Sub-Zero and smashed them, even resulting in two fatalities, one of which you can see below. Test Your Luck is quite a fun tower to play. In this particular mode, you must fight and win different opponents but the computer will randomly select modifiers to spice up the fight. These modifiers could be absolutely anything and could affect one or both of the characters in the fight, for good or bad. One particularly modifier included a sloping environment which made me feel as though I was playing the game aboard a boat on choppy waters, whilst a different modifier saw both my character and the CPU character being attacked randomly by bombs. This mode makes for an interesting and entertaining gameplay session which will challenge any gamer, seasoned or not.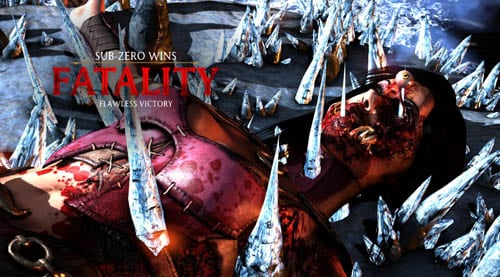 Throughout the game, when you win fights, you'll receive koins that can be used in the krypt. The krypt is a graveyard environment with tombstones, each stating a fee to smash it open. If you have enough koins and accept to pay the fee, you will get the reward hidden inside. Sometimes they are finishing moves, other times they unlock a character to be used online or multiplayer. You can also unlock artwork from the game but as far as gameplay goes, I'd prefer the characters or the special finishes. This whole idea of being able to spend your koins on unlockables is a great motivation to win fights and the fact that you get to choose which tombstone to smash is quite fun. Usually the better bounty can be found in the expensive ones but don't miss those that pop up in front of you for a limited time only, as they often contain something quite juicy!
MORTAL KOMBAT X as a whole is a thoroughly enjoyable fighting game. As someone who plays a lot of single player, I feel there's plenty here that could have me gripped for a very long time to come, especially compared to other fighting games. The brutality of the fighting has always set this game apart from the rest and here it is beautifully presented to be enjoyed. There's very few moments in gaming that match the joy of executing a fatality of brutality on your opponent and the slow-mo execution allows the gamer to relish the moment.
I played MORTAL KOMBAT X on the PC via Steam with a Microsoft Xbox Controller for Windows and found the controls to be excellent and rather easy to get to grips with. The game also has achievements and trading cards for Steam, should you wish to collect them. For film fans, the game has optional DLC extras that contain the characters of Jason Voorhees from Friday the 13th and Predator.
MORTAL KOMBAT X is truly a fantastic game. You won't be disappointed!
Rating: