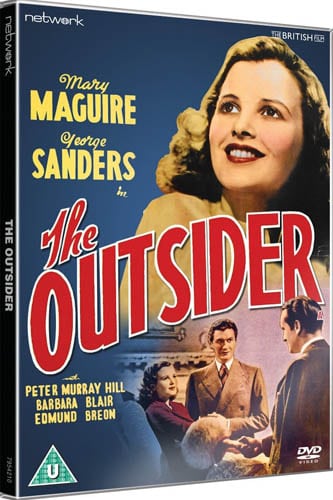 Medical drama and romance are intertwined in this engaging melodrama starring Mary Maguire (The Flying Doctor) and George Sanders (Rebecca). The Outsider (U) is released on Blu-ray RRP £14.99, and DVD RRP £9.99, on 18 May 2015 courtesy of Network's 'The British Film' collection.
Lalage Sturdee is a brilliant pianist. Virtually abandoned at birth by her father – an eminent surgeon – a mishap at the hands of an unqualified practitioner has left her disabled for life, or she believes. Despite her father's objections she puts her faith in Anton Ragatzy, the ebullient and outspoken inventor of a machine, which appears to be getting miraculous results; a machine that will either cure her completely or cripple her forever.
This classic film based on Dorothy Brandon's popular 1920s stage play and presented here in a brand-new High Definition transfer from the original film elements.