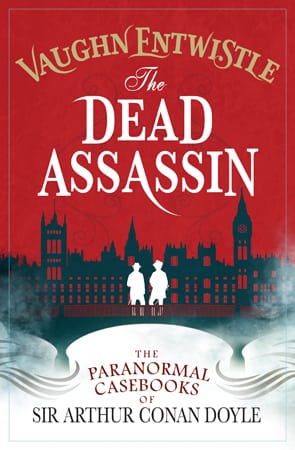 Titan Books have announced they will publish The Dead Assassin by Vaughn Entwistle (7.99, Paperback). The book will be the second in The Paranormal Casebooks of Sir Arthur Conan Doyle series, yet can be read as a stand alone novel.
1895. England trembles on the verge of anarchy, terrorist bombs are detonating around the capital, and every foreigner is suspected of being an enemy agent. In the midst of this crisis Dr. Arthur Conan Doyle is summoned to the scene of a gruesome crime that has baffled and outrage Scotland Yard's best. A senior member of Her Majesty's Government has been assassinated and the body of his attacker lies several streets away – riddled with the bullets that inexplicably failed to stop him from carrying out his lethal mission. More perplexing, the murder is recognised as man hanged two weeks previously…Conan Doyle calls in his friend Oscar Wilde for assistance, and soon the two authors find themselves swept up in an investigation so bizarre it defies conventional wisdom, and puts the lives of their loved ones, the nation, and even the monarch herself in dire peril…
Vaughn Entwistle grew up in northern England, and spent many years living the United States, earning a master's degree n English from Oakland University. He is the author of The Angel of Highgate, which received high praise from Kirkus Reviews, and The Paranormal Casebooks of Sir Arthur Conan Doyle. He now lives in north Somerset with his wife and cats.