Bride of the Gorilla (1951)
Directed by: Curt Siodmak
Written by: Curt Siodmak
Starring: Barbara Payton, Lon Chaney Jr., Paul Cavanagh, Raymond Burr, Tom Conway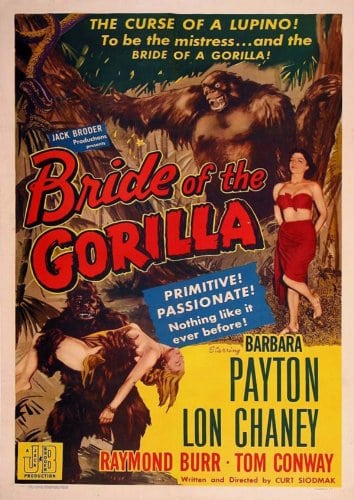 BRIDE OF THE GORILLA (1951)
Written and directed by Curt Siodmak
Available on Amazon Instant Video
Barney Chavez, a plantation worker, lusts for his boss' wife, the beautiful Dina Van Gelder. Spying his opportunity to get rid of ailing Klaas Van Gelder for good, he takes advantage of a slithering snake heading in their direction during a scuffle. With Klaas dead and the doctor's report confirming his death was due to snake venom, Barney weds widow Van Gelder. The two couldn't be happier and with the plantation now jointly his, Barney has everything he could ever wish for: the love of a beautiful woman in a tropical paradise. However, he didn't bank on servant Al-Long bearing witness to his murderous scuffle with Klaas Van Gelder and seeking justice against Barney, she places a curse on the newly married man; a beastly curse that will see him transform into the animal he is.
I was expecting some good old-fashioned beastie horror in this black and white movie from Jack Broder Productions but despite its title, Bride of the Gorilla shows very little of the titular ape. Instead, the film prefers to focus on the relationship between Dina Van Gelder and Barney Chavez. At first, the duo embark on a love affair from a distance as Dina is trapped in a loveless marriage as grumpy, work-obsessed Klaas refuses to let her close. With Barney offering all his heart to her, Dina wastes no time in marrying him once Klaas is found dead. Barney and Dina's relationship looks set to bloom but with the meddling witch servant Al-Long looking to provide her own swift justice, their marriage looks to be the beginning of the end as the lure of the jungle becomes too much for Barney who begins to struggle with feelings he's unable to control.
With any other cast, this would have been a painful slog but thankfully we have some great performances from Raymond Burr as strapping plantation worker Barney Chavez, Barbara Payton as stunning Dina Van Gelder, Tom Conway as Dr. Viet who secretly longs for Dina, and Lon Chaney Jr. as Police Commissioner Taro who suspects Barney is to blame for Klaas' death. Their interaction and performances save the film and make the repetitive script and plot bearable. They make rather good use of what they're given and create a depth to the plot that would be lacking if amateur actors were given the roles instead.
My main gripe with this film is that the opening half is so very strong but falters in the second half when it becomes a repetition of Barney wandering off into the jungle only to return the next day, babbling with what appears to Dina as nonsense and then doing the exact same thing again and again. It's like Groundhog Day! I'd have loved there to have been more development with the gorilla plotline instead of the dialogue heavy scenes. Barney as the gorilla, in a pretty decent costume, is only seen two, maybe three, times throughout the film. The lack of gorilla is what ultimately lets the film down and had they have featured the ape aspect more, dedicating more screen-time to Barney as a gorilla and how his wife and friends deal with it, I feel the film would have been that more enjoyable.
Bride of the Gorilla has its charm but ultimately struggles to captivate or entertain.
Rating: