Mona Lisa (1986)
Directed by: Neil Jordan
Written by: David Leland, Neil Jordan
Starring: Bob Hoskins, Cathy Tyson, Michael Caine, Robbie Coltrane

UK
AVAILABLE ON DUAL FORMAT BLU-RAY AND DVD: NOW, from ARROW VIDEO
RUNNING TIME: 104 min
REVIEWED BY: Dr Lenera, Official HCF Critic
George, a guy who has spent the majority of his life on the wrong side of the law, comes out of prison seven years after taking the rap for a crime committed by local gangland boss Denny Mortwell. He now wants to be a better man and tries to reconnect with his daughter Jennie but she doesn't even recognise him and his ex-wife throws him out of their house. Denny hires him as a driver for Simone, a high class hooker. The two initially dislike each other but eventually become friends, and Simone asks George to help her find a friend of hers, a 15 year old fellow prostitute called Cathy who mysteriously disappeared….
Mona Lisa had a hell of a lot to live up for this critic. Why? Because not long ago he watched and reviewed The Long Good Friday, the other much praised early Bob Hoskins-starrer that was released by Arrow Video in the set that also contained Mona Lisa, and was blown away by it. One of the marks of a truly great film is how long it sticks in the mind, and how many things you can remember from it. The Long Good Friday just won't leave my mind and I remember certain moments from it as if they were yesterday. I actually wonder if my 9/10 scoring is slightly low and that I should raise it. Therefore Mona Lisa had to be bloody good to be worthy of even sharing a Blu-ray box set with so good a film, but a few minutes into it I realised that I needn't have worried. Mona Lisa isn't quite as good as the afore-mentioned 1980 gangster flick, but it's a masterful film nonetheless. Reduced to its most basic level, it's the first of Neil Jordan's very off-beat love stories that you know just can't end happily, here looking principally at how men constantly seem to misunderstand and objectify women. Combine that with a compelling drama with thriller elements set principally in London's red light district before they cleaned most of it up [I actually remember, and I guess that this shows my age as well as misleadingly suggesting that I used to hang around the area a lot, how bad it used to be], Jordan's typical quirky touches and another fantastic performance by Bob that is every inch as good as the one he did in The Long Good Friday, and you have the recipe for another fine movie that will make you wonder why we don't get films like it coming out of Britain today.
According to co-screenwriter David Leland, the original idea for Mona Lisa came from some Palace Pictures honchos who presented a tiny synopsis to him and asked him to develop it. In Leland's script, the character of George was to be quite an old guy with both Michael Caine and Sean Connery in mind for the part. When Jordan and Hoskins came on board, Jordan rewrote Leland's script, often with Leland's input, so it was less tough and dark [though those two qualities remain in abundance in the film] and more emotional, and Hoskins even improvised much stuff during rehearsals. Anthony Hopkins turned down the part of Mortwell until it went to Caine despite it being such a small part compared to the lead role, while would-you-believe-it Grace Jones was considered for the part of Simone. Largely filmed on location with some real prostitutes but with lots of stylised lighting to give it that Jordan skewed adult fairytale feel, Mona Lisa went on to become a major hit in the UK and garnered Hoskins several Best Actor awards. In 2009, Larry Clark [yep, the guy who made Kids] announced that he was going to remake the film. Fortunately, we haven't heard anything about this since.
I was able to truly get 'into' Mona Lisa right away as the song of the title plays over images of George walking alone over a bridge and sitting in a park bench [gorgeous shot this] as the sun rises with nothing but a brown paper bag for company. Nat King Cole's words imbue the shots with such sadness and longing, and in fact they sum up much of what the film will largely be about. We immediately feel for George, and even when he loses his rag in front of loads of people when his ex-wife kicks him out of her house so he can't speak to his daughter, we are on his side and share his frustration. We never find out much about George's criminal past – in fact there's quite a lot of back story left unexplored in this film but this mostly seems to help rather than hinder it – but we know that he has a temper and soon discover that he's not alien to violence. Unlike Harold Shand, who may have a good side but is still basically a ruthless, brutal gangster, there is a sweetness to George that becomes more and more prominent throughout the story despite his many flaws, such as having no bones about hitting women and displaying some casual racism, the latter probably being something the character wouldn't have if this film was made in today's overly PC times.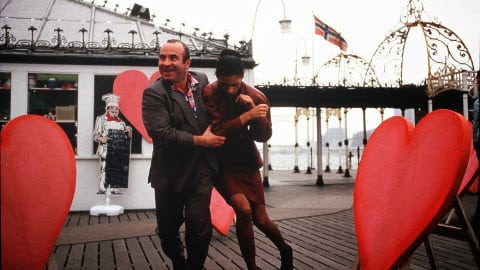 Much of the first half of Mona Lisa consists of George driving Simone around to her clients, and these scenes are such a pleasure to watch, be it the terrific interplay between George and Simone, George amusingly sticking out like a sore thumb in swanky hotels [Hoskins shows a great aptitude for subtle comedy in these scenes], or Roger Pratt's gorgeous nocturnal photography [which along with some other elements in the film reminded me greatly of Taxi Driver], that I almost didn't want the film to change. The mood, the perfectly balanced mixing of character drama, social realism, humour and gradually growing emotion really had me gripped even though nothing much happens for a while. But change the film does, becoming something closer to Hardcore as George descends into the underworld of Soho to find Simone's missing friend. Jordan builds the gradual tension masterfully and you know there's going to be a showdown which some seem to find out of place and is actually very poorly staged. In any case, it's the quieter bits which tend to have more of an impact. There are scenes where George befriends a teenage prostitute who may be his quarry, which are so desperately sad I had to stop myself crying. If you don't feel a lump in your throat when, having been asked by the girl to tell her pimp that she's made him happy otherwise the pimp will beat her up, George sees that he's beaten her up anyway, then you're not human!
Jordan mixes this kind of devastating realism with odd elements teetering on the edge of fantasy such as the often stylish lighting [much red and blue], weird tiny touches like two little [and vey familiar] little people dancing on Brighton Pier, and George's slightly weird friend Thomas [Robbie Coltrane] who buys in strange things to sell like 'ornamental spaghetti'. Their banter is often surreal, humorous and perhaps irrelevant to the main story but helps make the film unique, its disparate elements working so well together even though they probably shouldn't. Of course at the film's heart are the growing feelings George has for Simone, whom he begins to put on a pedestal and turns into someone not dissimilar to Scottie Ferguson in Vertigo, falling for an illusion of a woman rather than the real thing. The constant usage of the Mona Lisa song, be it with the words or composer Michael Kamen's variations on its tune or parts of it, work brilliantly in this respect, as does In Too Deep by Genesis which was written for the film, which really is an object lesson how to use popular music in a film and thereby strengthen it. The twist at the end may not be as shocking as the more famous one at the end of Jordan's The Crying Game, but still works, though perhaps more symbolically than anything else. Silly, blind George was going to get disappointed one way or another. Us men often just can't see the wool for the trees. At least the film does see fit to give George some kind of happiness come its conclusion, or does it?
Hoskins is like Bogart is many ways, a tough little guy who does not have typical movie star good looks. He is raw, real, and stunning, yet also sad, lonely, and vulnerable. The range of emotions he displays is amazing. What's so sad about his character in this film is that it seems to be his two most positive attributes – his vulnerability and his sensitivity – that get him to be 'used' by others. Meanwhile Caine is just pure evil as probably the nastiest character he's even played. Never has that familiar voice and accent sounded so cruel and inhuman. A true British neo-noir, Mona Lisa is one of those movies that, while you watch it, may not seem to have a lot going on but you can't stop watching due to its textures and its details, and once it's finished it's apparent that actually rather a lot has gone on indeed. Yep, just like The Long Good Friday, I doubt that it'll leave my mind for a while, and I also reckon that I will remember certain moments from it as if they were yesterday for some time.
Rating:
Arrow have painstakingly restored Mona Lisa from the original negative and, as expected, it looks tremendous, especially considering the many night time scenes, Pratt's clever colour schemes and the large amount of footage taking place in confined spaces. The Dual Format set ports over the director/star commentary from the old Anchor Bay DVD and adds some very interesting interviews. The film is also available from Arrow in a Limited Edition box set, with a few additional extras, with The Long Good Friday.
SPECIAL FEATURES
* Brand new restoration sourced from the original camera negative, approved by director Neil Jordan and cinematographer Roger Pratt
* High Definition (1080p) Blu-ray presentation
* Original uncompressed PCM mono 1.0 sound
* Optional English subtitles for the deaf and hard of hearing
* Audio commentary by Bob Hoskins and Neil Jordan
* Brand new interviews with director Neil Jordan, writer David Leland and producer Stephen Woolley
* Original Trailer
* Reversible sleeve featuring original and newly commissioned artwork by Matthew Griffin