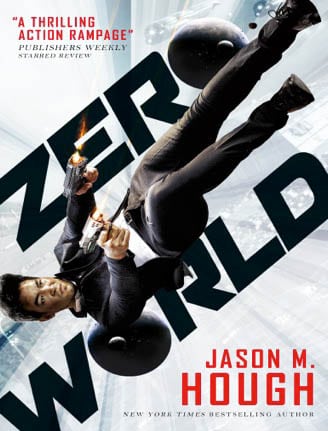 Titan Books will be publishing ZERO WORLD on paperback and ebook format on 18th August 2015.
New York Times Bestselling author of The Darwin Elevator, Jason M. Hough explodes back on to the literary scene with a riveting nearfuture
spy thriller that combines the adrenaline of a high-octane James Bond adventure with mind-blowing sci-fi speculations worthy of Christopher Nolan's Inception.
Technologically enhanced assassin Peter Caswell has been dispatched on a top-secret assignment unlike anything he's ever faced. A spaceship that vanished years ago has been found, along with the bodies of its murdered crew — save one. Peter's mission is to find the missing crew member, who fled through what appears to be a tear in the very fabric of space, emerging into an even more confounding reality: a world that appears to be Earth's twin.
Jason M. Hough is the New York Times bestselling author of The Darwin Elevator and The Dire Earth Cycle trilogy. Before writing he was a software designer and former 3D artist and video-game designer, developing such titles as Metal Fatigue, Aliens vs. Predator: Extinction and many more. He currently lives in Seattle with his wife, two sons and a dog named Missbuster.