I Only Arsked!
Directed by: Montgomery Tully
Written by: Jack Davies, Sid Colin
Starring: Alfie Bass, Bernard Bresslaw, Geoffrey Sumner, Michael Medwin

UK
AVAILABLE ON DVD
RUNNING TIME: 82 min
REVIEWED BY: Dr Lenera, Official HCF Critic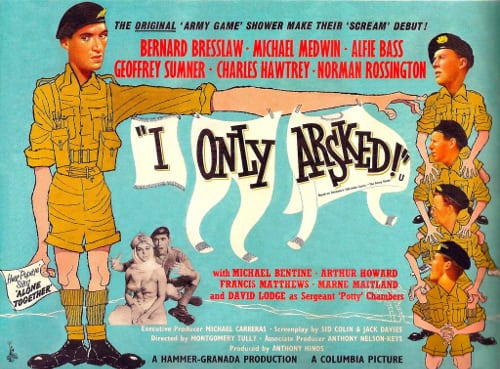 Through the mechanisms of their Sergeant 'Potty' Chambers, Bootsy, Popeye Poppelwell, The Professor Hatchett, Cupcake Cook and Cpl. Springer unwittingly put their names down for an important posting at the British Middle-East protectorate of Darawa. It seems that there is the possibility that oil exists in the nation, and it may cause a civil war. The Major, prior to the arrival of the others the sole British person in the country, is rather surprised at the unprofessionalism of the new arrivals, especially when an uprising against the king begins but the men keep sneaking off to nightclubs and the King's harem….
As they sometimes did, Hammer turned to TV comedy as the source for this film, a popular series entitled The Army Game about the adventures of a group of misfit soldiers. So what we have here then is another service comedy, and it's a reasonably amusing one, if more dated than some of the other Hammer comedies I've seen due to what some may see as casual racism and sexism. I'm not the kind to usually get bothered by this sort of thing, and think folk often go over the top about it, but modern viewers may feel uneasy watching some of this film, especially considering it has British troops sorting out problems in the Middle East. The sets aren't bad for such a cheapie movie and there's even an okay action climax, though these revolting natives would rather just charge at their opponents waving their guns so they can be easily shot down rather than actually use their guns. The daftest bit, even if it is in a comedy, is when our sometimes irritating bunch sneak into the king's harem, where the women understandably seem frightened. We cut to elsewhere, then we cut back to the harem where the men are being made as welcome as possible. It was obviously beyond the ability of screenwriters Sid Colin and Jack Davies to write a scene in which they talk the women round.
The humour sometimes operates at an even lower level than usual, but I don't mind admitting that I found, for example, Bernard Bresslaw's dumb act pretty funny all the way through the movie, from putting a mosquito net on himself to wondering why women tend to say "drop dead" when he asks them to dance. Every time he opened his mouth I knew I was probably going to chuckle, though of course for most of the time we're laughing at him, not laughing with him. Michael Medwin is also good as the archetypal Sergeant constantly trying to maintain some discipline in his men. With the exception of David Lodge who replaced William Hartnell, the main cast members are all from the series, but you also get to see more familiar Hammer faces Francis Matthews, Michael Ripper and [in her first role] Marie Devereux having fun playing Arabs, and I'm sure I saw George Pastell in there too, though he's not credited. I Only Arsked in a minor and sometimes annoying comedy, not helped by some poor and out-of-place songs, but it does contain some laughs and is still more enjoyable than much of the crud we get today.
Rating: