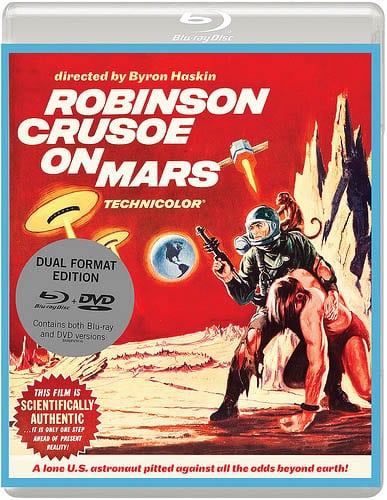 Eureka Entertainment to release Byron Haskin's ROBINSON CRUSOE ON MARS, the incredible adventures of a lone astronaut spaceship-wrecked on a no-man's land in the sky, in a Dual Format (Blu-ray & DVD) edition for the first time in the UK on 23 November 2015.
A futuristic retelling of Daniel Defoe's classic story, Robinson Crusoe on Mars has gained a beloved cult reputation ever since its debut in the years leading up to the space race. As a mingling of speculative science-fiction with an extraordinary visual design, it proved to have a significant influence on fantasy filmmaking on both the big and small screen.
Paul Mantee plays American astronaut Kit Draper, stranded (with his pet monkey in tow) on the Red Planet after an emergency crash landing. Now he must find ways to adapt and survive, physically and emotionally, in the alien landscape – but he may not be as alone as he thought…
Shot in magnificent Techniscope, Robinson Crusoe on Mars is a landmark for fans of genre cinema, and remains a uniquely charming and thrilling adventure, filled with contemplative humanity and wild imagination. Eureka Entertainment are proud to present Byron Haskin's Robinson Crusoe on Mars in a Dual Format edition for the first time in the UK.
This film is scientifically authentic – it is only one step ahead of present reality
SPECIAL FEATURES:
Gorgeous 1080p presentation of the film on Blu-ray
Original theatrical trailer
Optional English subtitles for the deaf and hard-of-hearing
24-PAGE BOOKLET featuring an essay on the film, rare archival imagery, and more!