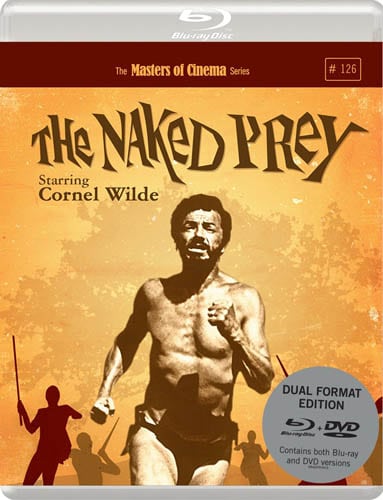 Eureka Entertainment to release leading man turned auteur Cornel Wilde's cult favourite THE NAKED PREY, a manhunt of indescribable terror and screaming suspense, in the UK on Blu-ray in a special Dual Format Edition as part of the Masters of Cinema Series on 19th October 2015.
Known mostly as an actor of the studio era, Cornel Wilde took on a parallel career as an independent producer, writer, and director to create a series of films that explored man in the midst of extreme dramatic situations — and The Naked Prey is perhaps his most personal and violent rumination.
Set in nineteenth-century Africa's colonial periods, Wilde portrays an unnamed safari guide whose group encounters and subsequently insults a local tribe. Following the execution of the other party members, Wilde alone is the last to be spared and is given a head start to elude his pursuers as game to be hunted for retributive satisfaction, unless and until he can attain safety…
The Naked Prey remains a special entry in the cinema of actors-turned-auteurs, which also includes such luminaries as Robert Montgomery, Charles Laughton, and Ida Lupino. The Masters of Cinema Series is proud to present Wilde's most ruthless picture for the first time in the UK in a special Dual Format special edition.
Stripped, weapon-less, alone and only ten desperate seconds ahead of the killers
SPECIAL FEATURES:
Gorgeous 1080p presentation of the film on Blu-ray
Original theatrical trailer
Optional English subtitles for the deaf and hard-of-hearing
24-PAGE BOOKLET featuring an essay on the film, rare archival imagery, and more!