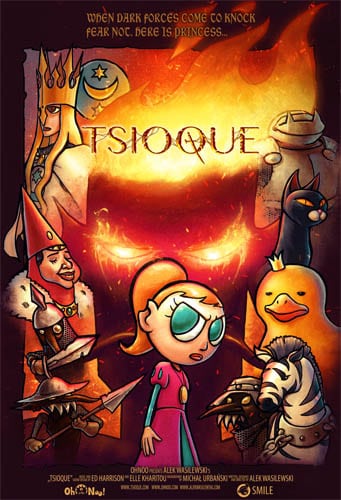 Independent developer OhNoo Studio have revealed a new trailer for the upcoming animated point-and-click game. Tsioque puts the player inside a mysterious spellbound castle, full of traps, monsters, and evil minions summoned with dark magic by the Evil Wizard, the one behind all this mess and our main antagonist.
Tsioque is a dark 2D adventure game inspired by classic 80s and 90s point-and-click titles. We take the role of a young girl Tsioque, imprisoned in a castle overtaken by the Evil Wizard. When darkness falls on your ancestral home, places formerly familiar suddenly turn unfriendly and dangerous. The castle walls have become a deadly trap – we must escape and thwart the Evil Wizard's plans before the spell he has cast on the castle escalates, triggering events beyond anyone's control…
Under the veil of a fantasy fairytale lies hidden another story, a personal one. A careful viewer may already try to decipher what the tale about a little girl and a wizard is really about… The clues are there, but the developers' lips remain sealed and the players may have to figure this one out by themselves.
Will Tsioque defeat the army of darkness? We'll find out next year, on PC and Mac. Before this happens, however, OhNoo Studio must reach its funding goal on Kickstarter.