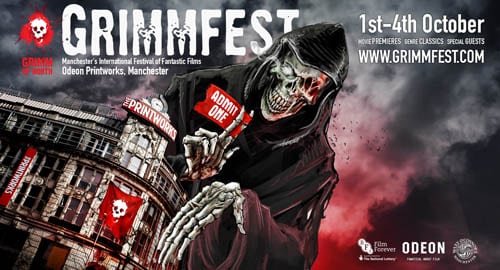 The full festival line-up has been revealed for Manchester's annual horror film festival, GRIMMFEST 2015, brought to you by Grimm Up North.
Taking places at Odeon Printworks from 1st to 4th October 2015, expect to see the finest upcoming movies from horror to sci-fi!
There's a limited number of full festival passes left, so make sure to grab one. The single tickets will be going on sale shortly.
Check out the full line-up for Grimmfest 2015 below!
Thursday 1st October 2015
The Hallow
Tree surgeon Adam Hitchens, his wife Claire and infant son Finn think they have found their dream home – a picturesque millhouse in the Irish countryside. But the dream rapidly becomes a nightmare, as the forest-dwelling creatures of local legend prove all-too-terrifyingly real…
Northern Showcase – four short films
Movies include THE BOX, SNATCHERS, DRIVEN and PROCESS. Guest speakers include: Dominic Brunt, Shaune Harrison, Simeon Halligan, Joanne Mitchell, Drew Lovett Scott Feast and Stephanie Bryant.
Bloodsucking Bastards
The aggressively go-getting new manager of an office call centre has a fairly extreme solution to increasing productivity.
Friday 2nd October 2015
German Angst
Tales of love, sex and death in Berlin from Germany's most shocking directors.
Scream
Attempting to cope with her mother's murder, Sydney and her horror movie-obsessed friends are stalked by a murderer who seems to have a hard time letting the past go.
Landmine Goes Click
Daniel, Alicia and Chris are on a hiking holiday in the mountains of the formerly war-torn republic of Georgia. Daniel has just proposed to Alicia and has asked Chris to be his best man. They stop to take a photograph, but as they get into position, Chris hears a sudden click underfoot. He is standing on a live landmine…
He Never Died
Jack, an isolated loner and social outcast, is thrust out of his comfort zone when the outside world bangs on his door and he can't contain his violent past.
Cherry Tree
Faith's world is falling apart, following the discovery of her father's terminal illness. Looking for a substitute maternal figure, she finds herself drawn to her field hockey coach, Sissy Young, who seems to offer comfort and reassurance. But Sissy is head of an ancient coven of witches, with a very specific interest in the troubled young woman, and soon Faith finds herself agreeing to a terrifying bargain…
Turbo Kid
In a post-apocalyptic wasteland, comic-book obsessed teenage scavenger, The Kid, finds that we do need another hero after all, when the girl of his dreams is kidnapped by the evil tyrant Zeus who has begun to tighten his grip over the region's water supply. Arming himself with an ancient turbo weapon and assuming the role of his favourite comic book character, he hops on his BMX bike and rides to the rescue…
The Hive
A young man suffering from amnesia must dig deep into the far reaches of his mind to remember who he is and save the love of his life before a virus that has infected him takes over.
Saturday 3rd October 2015
Excess Flesh
Jill is a slightly plain girl with low self-esteem and serious body image issues. She is obsessed with her room-mate, Jennifer, a bitchy model, who is everything she wants to be. Finally the obsession boils over into violence…
Short Film Showcase
Featuring short films dark_net, Whisper, A Stranger Kind, Judith, Willa, Cowboy Ben and [shut-in]
The Nightmare
Imagine if you were trapped in your worst nightmare, and you couldn't escape…
Howl
A red-eye train out of London hits something on the tracks, and the various passengers and crew find themselves trapped on an immobilised train in the middle of a forest full of feral humanoid creatures.
Synchronicity
A group of scientists invent a machine that can create a wormhole and fold time. It creates a paradox…
Deathgasm
A bunch of metal heads get hold of the sheet music for The Black Hymn, which will create hell on earth. They play it – with predictably unfortunate consequences…
We Are Still Here
After their teenage son is killed in a car crash, a grieving couple move to a quiet town in rural New England to start a new life. But their new house is home to a family of vengeful spirits, and the seemingly peaceful town has a dark and deadly secret…
Sunday 4th October 2015
Hellions
Halloween. Surly Goth teen Dora discovers that she is pregnant. Home alone, wondering what her next step is, she is assailed by demonic trick or treaters…
Antisocial 2
Years after having her newborn child stolen from her, a bereft Sam searches a world infested with infected users from the Social Redroom website. Befriending a young girl named Bean, she finds herself lured into a trap, captured and locked in a facility dedicated to finding a cure. As she struggles to escape, she begins to realise that her capture intentions are not quite as they seem. And all the while the virus prepares to update itself…
Hellraiser
IT WILL TEAR YOUR SOUL APART!
Tales of Halloween
Halloween in a small suburban town in Middle America, and every bad thing is out and about and up to no good.
DXM
A group of young bio-engineers discover that quantum theory can be used to transfer motor-skills from one brain to another. They freely spread this technology, believing it to be a first step towards a new intellectual equality. But as the mysterious past of one of their group is revealed, dark forces emerge that threaten to subvert their discovery into a means of mass-control.