1975's Profondo Rosso, in some ways its director's summing up of the concerns of the giallo before he moved on to the supernatural excesses of Suspiria and Inferno, remains one of Dario Argento's best films. It has some fantastic set pieces and moments of genuine fear, but is also quite strong on plot and even contains elements which don't usually come to mind when you think of Argento, such as good characterisation and light humour, resulting in a pretty satisfying picture all around. It was also the first film to have a score predominately by prog rock group Goblin, the group who would pretty much define the sound of Italian horror. Now I know that this sounds like an exaggeration – after all, the brilliant Ennio Morricone wrote dozens of scores for Italian horror films while other luminaries like Carlo Rusticelli and Fabio Frizzi also made great contributions which should be taken into account- but I think that, for most people, when thinking of Italian horror it's the name Goblin that first springs to mind [with I suppose Suspiria being their most famous], even if they didn't actually score as many films as you may think. One of the things I personally love about their film work is how diverse it is – yes, Goblin have a signature style which is immediately identiable and was often imitated, but their music encompasses various genres from disco to heavy rock, though this may partially be because the band often changed members with dizzying rapidity!
Argento actually originally employed jazz composer Giorgio Gaslini to score Profondo Rosso, but he was dissatisfied with his efforts and decided to give Cherry Five, as Goblin were originally called, a go, but only gave them one night and one day to compose and record the score. He ended up retaining some of Gaslini's work, while the Goblin pieces were usually shortened or slightly altered for their placement in the film. One piece, Wild Session, wasn't even used in the film at all except for its atmospheric intro. However, they were recorded very LOUD, meaning that the music often took centre stage for portions of the movie. Some seem to find bits of it 'too much' or not fitting the scenes, most notably when Marco is exploring the supposedly haunted house in the film, a scene which would normally have either had no music or more conventionally atmospheric scoring, but this is clearly what Argento wanted. The music is intended to be a character in the film, propelling the viewer and the audience through the Argento's insane world, and in Profondo Rosso and some of his successive films it's a perfect match for Argento's baroque style.
The Profondo Rosso soundtrack is probably the most purely prog rock-like of the Goblin soundtracks and shows a distinct Mike Oldfield influence here and there as well as sounding similar in parts to the film music of Lalo Schifrin [Dirty Harry, Enter The Dragon]. The original album release included the full versions of all the Goblin tracks including Wild Session, plus two of the Gaslini pieces that were used. In 1996 Cinevox released a nearly complete version of the music as heard in the film, incorporating all the bits of Gaslini score that were used, plus the different edits of the Goblin tracks, then arranging them into something resembling chronological order. Then in 2006 the same label released a two CD version of the soundtrack with the remastered original album on disc one and all the variations and film tracks, along with a few unreleased pieces such as some jazz source music, on disc two, though this time not in any particular order. I suppose my preferred release out of all these would be a set containing the original album on one CD and the 1996 album with the extra bits from disc two of the 2006 album inserted into it on another CD [or two]. Anyway, Rustblade Records has decided to give us yet another release of the soundtrack for the film's 40th anniversary, which I suppose is as good a reason as any. This version concentrates only on Goblin's music, with the possible exception of part of Gaslini's School At Night which was one of the tracks in the original album, and only contains the Goblin tracks used in the film, meaning that Wild Session sadly isn't present. We do, though, get some great live versions of some tracks which are all worthwhile.
The opening track, the main theme of the film heard during important moments, is surely one of Goblin's most infectious, its Tubular Bells-like guitar and keyboard motif immediately grabbing the attention before the keyboard melody kicks in and the rock beat follows, the two styles of the piece then alternating. Death Dies, played during murder scenes, is a more jazz funk-style piece with two pianos helping to make the rhythm as frantic guitar riffs attack above it. Mad Puppet, heard when Marco is exploring a house and a school, begins with some atmospheric drum and electronic sounds before launching into a riff very similar to one near the end of Tubular Bells Part One, over which keyboard, guitar, gong and other sounds make varying contributions. Deep Shadows, heard only a couple of times when Marco is in the haunted house and only in part, is probably my second favourite track of the album. After a very frantic intro we get another catchy guitar riff with a keyboard tune played over it. Sometimes the piano will come and 'help out' with the material, interspersed with some fierce drum and solo guitar work. It's a very well constructed piece which often surprises the first time you hear it with its unpredictability.
Now we move onto some live versions of tracks, beginning with School At Night, which is only the lullaby section of the piece and just lasts about half a minute. Now I've always assumed that the whole track was composed by Gaslini but the fact that Goblin played the middle portion live means that they may have composed it, and maybe Gaslini then adapted it into bits of the score. Who knows? Then we get a version of, without its intro, Mad Puppet, with the instruments heard over the main riff sounding a bit more prominent and lots of new improvised guitar rock and a rock beat coming in about half way in a version which I think I prefer over the original. This is followed by a live version of the main theme, which has an odd techno-ish intro and some instruments playing different portions than in the original, along with some new parts like a slow finish. Despite bringing in a rock beat, it overall sounds softer than the original. A live version of Death Dies removes some of the funk element and adds much more prominent guitar work and a new motif for guitar. Finally we have another version of the main theme, this one sounding closer to the original, despite very different keyboard work, until it goes into full rock mode around half way through.
So the big question is, is this release worth it? I would say yes – don't throw away your copies of the earlier releases, especially if you like Gaslini's contributions to the film – but the extra tracks are well worth it if you are a fan of the music while, if you don't have any version of this soundtrack, this is probably the one to get as the longer versions can be very repetitious with lots of different edits of tracks. If you love what you hear, maybe seek out the 1996 release as well.
TRACK LISTING
1/ Profondo Rosso
2/ Death Dies
3/ Mad Puppet
4/ Deep Shadows
5/ School at Night [live]
6/ Mad Puppet [live]
7/ Profonfo Rosso [live]
8/ Death Dies [Simonetti Horror Project Version]
9/ Profondo Rosso [Rock Version]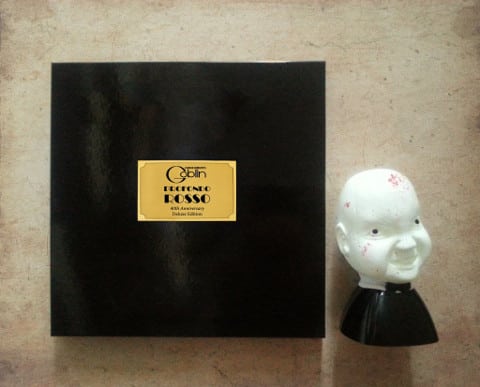 This 40th Anniversary release of the Profondo Rosso soundtrack is available in a whopping FIVE versions:
Limited Deluxe Box with a Gold Plate [Only 23 copies], plus Hand Made Mad Puppet Reproduction 19cm x 10 cm, Coloured Vinyl, CD, Mad Puppet, Poster, Autographed Poster, Tshirt, Two Postcards, Pin, Murder kit [Little Knife, Needles in a Velvet bag], Red Bag, Embroidery Patch, Villa del Bambino Urlante Poster, Certificate of Authenticity
Limited Deluxe Box [Only 100 copies] with a Gold Plate, Contains : Coloured Vinyl, CD, Poster, Autographed Poster, Tshirt + Two Postcards, Pin, Murder Kit [Little Knife and Needles in a Velvet bag], Red Bag, Embroidery Patch
Limited Box Set with Coloured Vinyl, CD, Two Posters, Two Postcards, Pin, Red Bag
Limited Coloured Vinyl and Poster
CD
Released on 31st October, you can order now from https://www.rustblade.com/