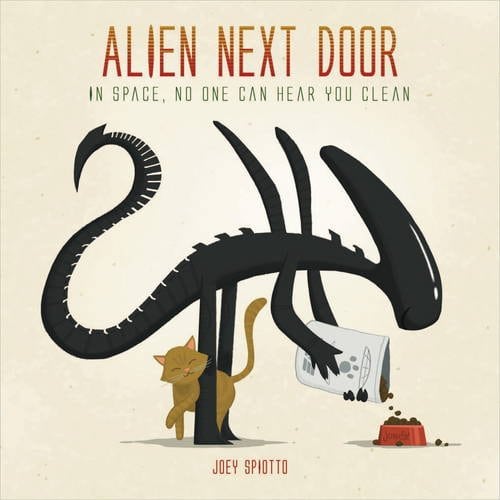 Titan Books are set to publish THE ALIEN NEXT DOOR, an official, fun, new illustrated film cartoon book inspired by the sci-fi horror classic ALIEN, on 6th November 2015 in hardback format.
See a new, caring side to the legendary science fiction monster as he tends to Jonesy the cat, endeavours to keep his house cleaner than the Nostromo, and searches for his place on a cold, new, alien world: Earth. From facehuggers to feather dusters, discover how the perfect killing machine relaxes after a day of scaring space marines.
Packed full of inside jokes for Alien fans, this full colour illustrated book features a wealth of original new art work from cult artist Joey Spiotto and is the only official Alien cartoon book. With a loving introduction from the artist that reveals a softer side to the legendary late H. R. Giger, Alien Next Door is the perfect Christmas gift for fans.
Joey Spiotto is a graduate of Art Center College of Design in Pasadena, CA. He has previously worked in the film and video game industry on such projects as The Polar Express for Warner Bros. as well as The Sims and Dead Space video games for Electronic Arts. His artwork is regularly featured at Gallery 1988 in Hollywood and is one of the top artists at Teefury.com. He lives just outside of Los Angeles, CA. Visit him at www.jo3bot.com