Bloodless, Vampires (2014)
Directed by: Richard Johnstone
Written by: Richard Johnstone
Starring: Angela Zahra, Melissa Advani, Victoria Hopkins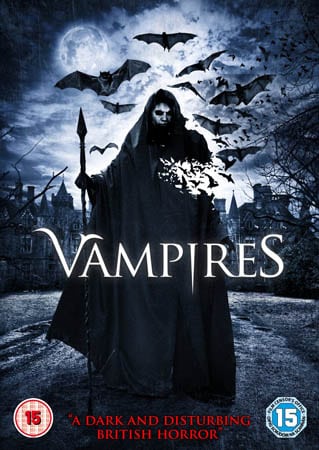 VAMPIRES (2014)
aka BLOODLESS
Written and directed by Richard Johnstone
A group of couples descend upon a castle in the remote British countryside to take part in a clinical trial for hypertension. Each couple must obey the rules set out by the examiners which includes no contact with the outside world and no leaving the castle's grounds. Providing both individuals in each of the couple's comply, the couple will receive £20,000 between them – £10,000 each. If any of the couples fail to comply, they will be forced to leave and forfeit the payment which will be put back into the pot and shared out between the remaining couples who complete the 30 day clinical trial. At first glance, the trial seems to be an easy way to make money but during their stay they begin to witness and experience strange goings on from being locked in a room to hearing whispers throughout the castle. They eventually realise the assessment will test them more than they could have ever have imagined.
Independent British horror VAMPIRES struggles to set the pace and create the much-needed tension in this spooky horror thriller. Whilst a clinical test is an interesting idea to play upon for a horror, the lack of characterisation, suspense and plot development means it's hard to actually sit back and invest in the characters and the environment the characters find themselves in. It unfortunately feels cheap, with some of the actors lacking the required range and emotion to respond to certain elements in the film. For instance, a character accidentally burns herself with boiling hot water yet she doesn't flinch nor does she later feel soothed after putting her hand under the cold water tap. Little things like this break the believability of the movie as these are basic responses and emotions which should be catered for.
For a film that contains vampires, there's actually very little going on. Most of the horror scenes are off-camera with only some mild blood-sucking moments remaining to actually prove that, you know, these particular villainous characters are vampires. The lack of real threat with no tension build-up whatsoever means that many of these scenes fall flat and offer no redeeming qualities. I appreciate the low budget simplicity of the movie but if the titular creatures cannot be given a proper showcase then it kind of defeats the object. The film might as well have been a thriller or a haunted house/castle story rather than a vampire flick.
Poor performances, a lacklustre script and stumbling pace leaves VAMPIRES resembling more of a chore than a piece of cinema made to entertain. A missed opportunity.
Rating: