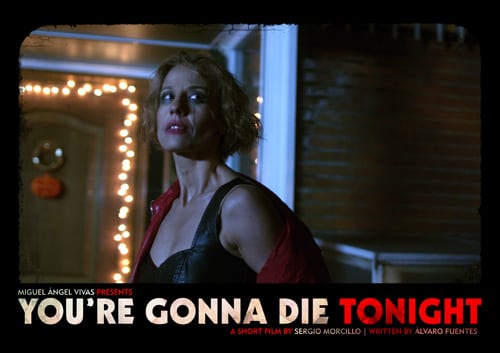 The first two still have been revealed for Spanish horror thriller YOU'RE GONNA DIE TONIGHT.
On November 6th, Sergio Morcillo began shooting his new film YOU'RE GONNA DIE TONIGHT in Madrid, a definite brutal rise in quality of the career of the young filmmaker.
The shooting will end this week with a release planned for 2016. This project is sponsored and supervised by the great film director Miguel Angel Vivas, director of the shocking "Kidnapped", and is written by Alvaro Fuentes.
Tthose responsible for creating the FX for YOU'RE GONNA DIE TONIGHT are FX Inside, led by David Ambit, who also worked with Sergio Morcillo in his earlier work as "Metamorphose" and is known for the work on the popular [Rec] saga.
Sergio Morcillo said about the film: "You're Gonna Die Tonight" is a real roller coaster of emotions that goes in crescendo until it flows into an ending that will leave us with bad body. A love letter to '80s slasher and generally those B series productions that plagued the video stores. It has a remote history of conventional slasher to recreate a mature, complex and shocking conflict".
 "A woman enjoys the pleasure of a hot bath while enjoying her own body. A call from a stranger interrupts the tranquility. The worst night of her life has just begun with just a few words: "You're gonna die tonight."