DEFEND THE HIGHLANDS – PC Game Review
Developed by Kilted Camel
Published by KISS Ltd
Aye laddie. Your task is defend various Scottish objects and places of interest, including a well-stocked bar, Stirling Bridge and a golf course to name just a few, from the wicked British consisting of Leprachaun Irish, cricket whites wearing English and rugby playing Welsh. You must keep your soldiers' strength up by farming for oats to make a plentiful supply of porridge. The more porridge you make, the more recruits you can encourage to the battlefield by your bagpipe playing soldier(s). Let Scotland be free from British reign!
DEFEND THE HIGHLANDS is a satirical real-time strategy game based around the stereotypes of Scottish, English, Irish and Welsh with the focus on the Scots defending the highlands from the rest of the countries in the UK. Armed with bottles and the odd bit of porridge, the kilt-wearing Scots must attack and defeat the oncoming enemies to successfully defend their lands. As a player on the side of the Scots, your job is to help your men do their job to the best of their ability which includes ordering the soldiers to stand in certain places, farm for oats in the oat field and play the bagpipes to encourage new recruits to join the fold. With each opponent that is killed, you'll get money which can be used to buy defensive items such as table barricades which work great as cover for your Scotsmen and other items such as a poisonous whisky bar, haggis catapult and porridge canon.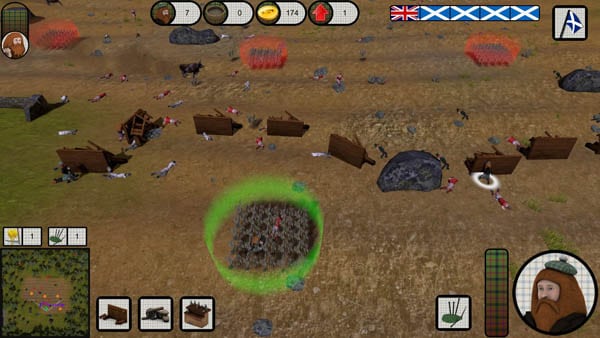 The game starts off relatively easy though it does get more difficult after the first couple of levels. This game is unforgiving too so if you have the wrong strategy, you'll soon know about it when you have only one soldier remaining on the battlefield. Play the game right and it's a doddle. The main aim of the game is to defeat the opposition but to do that quickly and effectively, you need more soldiers and more soldiers can only join if you have enough porridge. The strategy I use is to focus my attention on one oat field, surround it with a barricade of tables. put a few soldiers behind the barricades to protect the oat field and then order a soldier to harvest the oats. When I have enough men defending the oat field, I then instruct one of the soldiers to play the bagpipes to encourage more soldiers to join. Once I'm happy and have more soldiers than necessary for one spot, I repeat the process at the site of another oat field until the Scots successfully defend their lands. Though it sounds quite simple, you will find instances where your men will die and the rugby playing Welsh and cricket bat wielding English will break down your barricades so you have to keep an eye on that state of your defences and replace tables and reassign soldiers where necessary.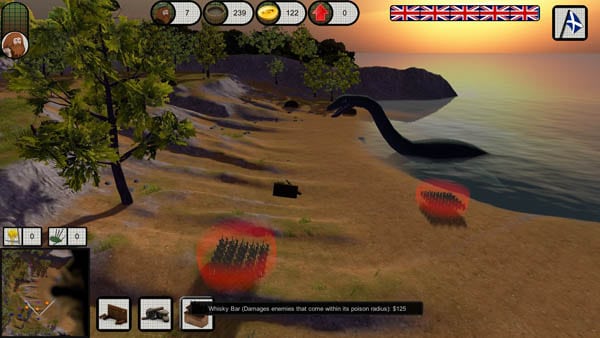 As far as strategy games go, DEFEND THE HIGHLANDS is an easier one to get stuck into with the ability to upgrade stats of your soldiers and their weapons after each successful defence. The sound effects and dialogue are a hoot and plenty of people will enjoy the game for its wit and humour. If you can think of a stereotype of these four nations, then I can imagine the developers Kilted Camel have got it covered. Even everyone's favourite Scottish legend Nessie is in the game and she eats any of your opponents who stray too near the water.
There's a lot to like about this game and although it can be a little repetitive at times, the fun-filled action is enough to keep you giggling whilst planning your next attack and defence. The only bug I've come across so far is that sometimes I'm unable to drop a table in the desired spot after purchasing but this only happens once in a level and is quite intermittent. So far, DEFEND THE HIGHLANDS is a single player campaign only but I can imagine a lot of fun could be had with multiplayer. The game also features Steam achievements and Steam trading cards for those who like to collect them.
Strategy games have never been this fun and for once I don't feel overwhelmed when playing such a game, especially with its tongue-in-cheek humour to be appreciated by all, whichever of the nation's you fall into.
Rating: