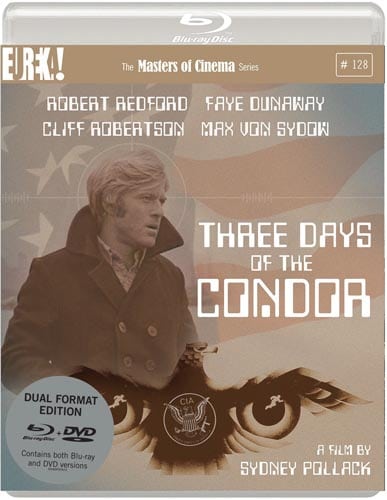 Eureka Entertainment to release THREE DAYS OF THE CONDOR, Director Sydney Pollack's critically acclaimed suspense-thriller starring Robert Redford, on Blu-ray for the first time in the UK as part of a Dual Format Edition on 11th April 2016.
 Robert Redford and director Sydney Pollack teamed up for their third collaboration on Three Days of the Condor, a sinuous tale of deceit and corruption, as well as one of Hollywood's finest conspiracy thrillers of the 1970s.
Redford stars as Joe Turner, a junior analyst in the C.I.A., scrutinising published texts from around the world for coded messages. But once he discovers an unusual anomaly, his own existence comes crashing down, with every error carrying fatal consequences.
Taught and engrossing, with astonishing modern-day relevance, and fabulous supporting turns from Faye Dunaway, Cliff Robertson, John Houseman and the great Max von Sydow, the Masters of Cinema Series is proud to present its first ever home video release in the UK in a new special edition.
His codename is Condor!  In the next seventy-two hours almost everyone he trusts will try to kill him
Be careful who you trust
SPECIAL FEATURES including:
New high-definition presentation
English subtitles for the deaf and hearing impaired
Original theatrical trailer
PLUS: A booklet featuring new writing and archival images