Sheba Baby (1975)
Directed by: William Girdler
Written by: David Sheldon, William Girdler
Starring: Austin Stoker, D'Urville Martin, Dick Merrifield, Pam Grier, Rudy Challenger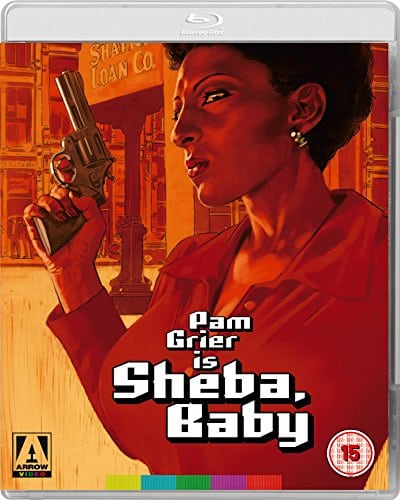 SHEBA, BABY (1975)
Directed by William Girdler
Private investigator Sheba leaves her office in Chicago to visit her father Andy in Louisville, Kentucky after he's beaten up by a gang who want to claim his business, Shayne's Loans. With all the other loan businesses and pawn shops driven out of business through intimidation and violence, Andy sees no other way than to give in, especially when they almost kill his beloved daughter. However, adamant that they cannot let these criminals bully them and with the police offering no support at all to her father nor his business, Sheba decides to take matters into her own hands and stop the crooks once and for all.
Blaxploitation film SHEBA, BABY takes leading lady Pam Grier in a more serious direction than her previous outings as she attempts to tackle the local criminal underworld who have desires to take over the profitable businesses in town. Gone are the nude scenes we've been accustomed to, for this badass mama is strictly a professional who prefers to let her gun do the talking.
For the most part, SHEBA, BABY is quite a straight-laced affair with the threat against the Shayne family, their business and employees such a credible one that people are dying because of it. Sheba's battle to not let the bad guy win is a valiant one, though some would say foolish as who would go up against men armed with guns and someone who has no qualms about rigging a car with explosives just to get a man's business? Is a company really worth dying over? In this world full of injustice where Sheba finds herself in, she cannot simply sit on her hands like the police are doing. A threat against her father is a threat against her and the skilled P.I. isn't afraid of venturing into the opposition's turf to get answers to her questions.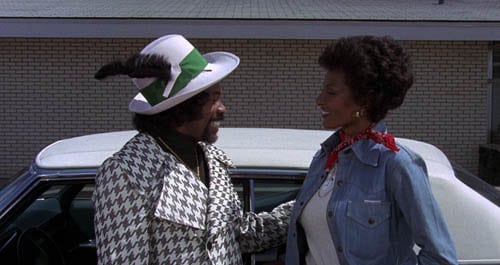 Pam Grier once again sparkles in her role as leading lady and protagonist Sheba, a woman who's fiercely independent and can sort things out herself. Unlike the previous films, Sheba doesn't need to use her sexuality to get what she wants. Instead, Sheba uses her wit and skills as a P.I. to her advantage. That's not to mean Sheba doesn't have a sensitive side. She finds solace in the arms of Brick Williams (Austin Stoker) who works for her father at the loan business and who has known Sheba for a very long time. Brick helps Sheba in every way he can without trying to take over or protect her in any way – Sheba is running the show and he knows it. Sheba is no fool and is experienced and equipped at handling dangerous situations, which is just as well as she finds herself in various chases including on foot at a fairground and an armed, Bond-esque boat chase. When it wants to, SHEBA, BABY can certainly ramp up the action!
Whilst SHEBA, BABY is an enjoyable film in its own right with its no-nonsense, straight-talking female protagonist, I must admit it lacks the fun that Coffy and Foxy Brown had in abundance. Hope isn't completely lost though as three quarters of the way into the film, Pam Grier's character Sheba gets into a cat fight with another female which results in the two rolling around the crowded deck of an expensive yacht. And before you ask, yes, food is involved. Whilst it might not be as entertaining and hilarious as the extended cat fight scene in Coffy, I'm kind of glad it has been included in the movie as a nod to the previous work, even if it does feel a little out of place.
Laced with afros, flares and a funky soundtrack with narrative-fuelled songs, there's plenty to like about SHEBA, BABY. I wouldn't say it's my favourite film of the blaxploition genre nor of those featuring Pam Grier but it's a decent effort that is still more entertaining than a lot of movies made nowadays. A sprinkle of comedy included here and there may not quite work as well as intended, due to the serious tone the film has gone for overall, but I wouldn't say it hurts the movie in any way. This is merely just a different kind of movie than initially expected and I felt it should have stuck to its preferred direction completely instead of trying to dip its toe in water already treaded in previous movies.
Arrow Video have released SHEBA, BABY on dual format DVD and Blu-Ray with a crisp, high definition transfer and optional audio commentary with producer-screenwriter David Sheldon and moderated by critic Nathaniel Thompson. There's also a 15 minute interview with David Sheldon on the special features where he discusses his time working at American International Pictures (AIP) and with William Girdler on Sheba, Baby, previously called Honour, as well as a video essay on Pam Grier's AIP work by film historian Chris Poggiali. The trailer and gallery featuring rare publicity images and lobby cards rounds up the special features present on the disc. The dual format release features a reversible sleeve with original and newly newly commissioned artwork by Sean Phillips and a booklet featuring brand new writing on the film by Patty Breen, webmaster of WilliamGirdler.com, illustrated with archive stills and posters.
I wouldn't say this film was "hotter than Coffy" nor "meaner than Foxy Brown" but SHEBA, BABY certainly has the determination and guts to offer 90 minutes of solid entertainment with a tough-as-nails protagonist you can fully get behind.
Rating:
Save