Fall Break, The Mutilator (1984)
Directed by: Buddy Cooper, John Douglass
Written by: Buddy Cooper
Starring: Bill Hitchcock, Connie Rogers, Frances Raines, Matt Mitler, Morey Lampley, Ruth Martinez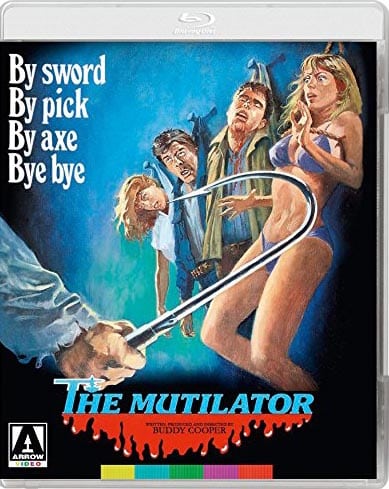 THE MUTILATOR (1984)
aka FALL BREAK
Written and Directed by Buddy Cooper
Ed and his group of friends decide to spend Fall Break at his father's beach-side condo which his father has requested he close down as tourist season has come to an end. Upon arriving at the condo, the friends think there's been a break in with the rooms littered with beer bottles and a missing axe from the wall of the trophy room. However, Ed is convinced that it's just his father who must've been drinking with his buddies and took the axe home with him. Ed is right about his father except he never left the condo at all as Ed and his friends are about to find out…
Eighties slasher horror FALL BREAK, also known as The Mutilator, is like a sugar-coated exaggeration of how teens act and spend their time during their vacation during school break that you almost pray for the villain of the piece to get to work with his arsenal of tools, be it fishing hook or axe. For anyone who's seen slashers will notice the formula adopted here which is one of the go-to plot structures for slashers even up to this very day.
All six of the friends are super nice with jokester Ralph proving the only annoyance to the group, especially when he teases Ed's girlfriend Pam about being a virgin and not "putting out". Besides Ralph, the rest of the characters lack just that – character – not to mention charisma so when death comes a-knocking it's hard to feel any sympathies or emotion for the characters either way.
The villain of the piece, Ed Sr., is a shell of a psychopath who hides out in a closet in the garage armed with his weapon of choice. He has very little about him and as bad guys go, he's a very poor one. His decision to go kamikaze on everyone around him is puzzling. Other than Ed accidentally shooting his mother dead as a boy, there's really no reason for Ed Sr. to go crazy and execute a load of high school kids. Although from the opening scenes after finding his beloved wife dead, Ed Sr. comes across as a bit of a nutcase already as he drags his deceased wife to the couch and pins a birthday notice, that their son made, onto her chest. Could his wife's death really be the straw that broke the camel's back? I'm not overly convinced.
Most of the bloody scenes featured in THE MUTILATOR are quite weak compared to others in the genre with some long, drawn-out expressions from those who fall victim. The film does include decapitations and limb slicing though which I suppose is a bit more than what you might expect from a film that appears so cheery, especially one as cheesey as this. I will give credit where credit is due and hold my hands up to admit one particular scene in particular had me wincing and screwing my face up like I'd sucked on a lemon and that involves a female character who's genitals, albeit covered, have a particular grisly meeting with the hook of the madman. Not one for the ladies to bare witness!
Despite my opinion of the movie itself, Arrow Video have produced an incredible package with the dual format release of THE MUTILATOR. It's chock full to the brim with special features including a feature length documentary, interviews with the men behind the FX and happy-go-lucky score as well as commentaries from the cast and director Buddy Cooper, a selection of trailers, an alternative opening credit sequence and image gallery. The Blu-Ray transfer itself is pretty clear with the odd pop and hiss here and there on the 1.0 PCM audio. As with other Arrow Video releases, the title comes with a reversible sleeve featuring two original artworks for the film.
As far as slashers go, THE MUTILATOR is a weak effort indeed but fans will be amazed with the package that Arrow Video have to offer in this dual format release.
Rating: