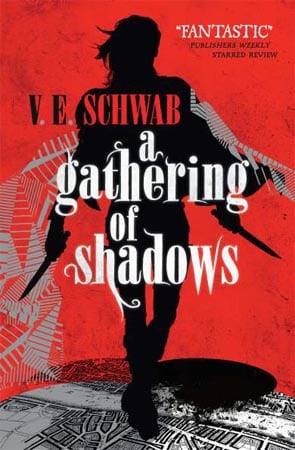 Titan Books have announced they'll be publishing V.E. Schwab's A GATHERING OF SHADOWS in paperback and ebook on 23rd February 2016.
Four months have passed since the shadow stone fell into Kell's possession. Four months since his path crossed with Delilah Bard. Four months since Rhy was wounded and the Dane twins fell, and the stone was cast with Holland's dying body through the rift, and into BLACK LONDON.
In many ways, things have almost returned to normal, though Rhy is more sober, and Kell is now plagued by his guilt. Restless, and having given up smuggling, Kell is visited by dreams of ominous magical events, waking only to think of Lila, who disappeared from the docks like she always meant to do. As Red London finalizes preparations for the Element Games-an extravagent international competition of magic, meant to entertain and keep healthy the ties between neighboring countries-a certain pirate ship draws closer, carrying old friends back into port.
But while Red London is caught up in the pageantry and thrills of the Games, another London is coming back to life, and those who were thought to be forever gone have returned. After all, a shadow that was gone in the night reappears in the morning, and so it seems Black London has risen again. To keep magic's balance, another London must fall.
One of 2015's biggest breakout titles, A Darker Shade of Magic saw author Schwab elevated to new heights with the critically acclaimed, bestselling title. Now she returns with the next instalment in the fan? favourite series with a whole new adventure of derring-do, magic and fantasy… "
V.E. Schwab is the bestselling author A Darker Shade of Magic, which came second in the Goodreads Choice 2015 Book Awards, the forthcoming A Gathering of Shadows, and of Vicious, which was a Publishers Weekly Best Book of 2013, an Amazon Best Book of the Year (as well as Best Book of the month), a semi-finalist in the Goodreads Choice 2013 Book Awards, and the ALA top pick for Fantasy for their 2014 reading list. She is known for her stunning prose and swift plot, as well as characters who blur the line between hero and villain.