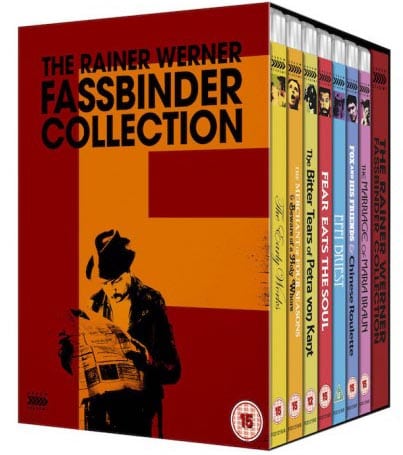 Rainer Werner Fassbinder died at the age of just 37 but left behind a remarkable legacy. His career as filmmaker lasted less than two decades, yet he managed to direct 40 features, two TV series and numerous stage productions. This remarkable output created some enduring classics and, alongside the works of Werner Herzog, Wim Wenders, Volker Schlöndorff and Alexander Kluge, brought New German Cinema to an international audience.
Arrow Video's The Rainer Werner Fassbinder Collection, released on 28th March,  brings together ten of the director's finest, including his feature debut Love is Colder Than Death, Katzelmacher, Beware of a Holy Whore, The Merchant of Four Seasons, The Bitter Tears of Petra von Kant, Fear Eats the Soul, Effi Briest, Fox and His Friends, Chinese Roulette and The Marriage of Maria Braun.
Each film has been lavished a 4K restoration by the Rainer Werner Fassbinder Foundation and comes adorned with an array of extras, including commentaries, documentaries, interviews and short films.
This limited edition box set also houses a 200-page hardback book containing all-new writing on the films therein.
Alongside this limited edition set, Arrow will also be releasing each title individually, starting with Fear Eats the Soul and The Merchant of Four Seasons & Beware of a Holy Whore on 28th March and The Bitter Tears of Petra von Kant and The Marriage of Maria Braun on 4th April 2016. The remaining titles will follow later in the year.
Fear Eats The Soul – Synopsis
In March 1974 Rainer Werner Fassbinder released what would become arguably his most loved work. Fresh from the Cannes Film Festival, where it had earned its director two prizes, Fear Eats the Soul would soon delight audiences the world over with its tale of romance and racial prejudice in present-day Munich. Emmi (Brigitte Mira), a widowed cleaning lady in her sixties, meets Ali (El Hedi ben Salem), a Moroccan immigrant in his thirties. Seeking companionship, the pair marry to the outrage Emmi's family (including Fassbinder himself as her aggressive son-in-law), her friends and her colleagues.
Paying homage to the classic melodramas of Douglas Sirk, in particular All That Heaven Allows, Fear Eats the Soul is a beautifully performed look at intolerance and hypocrisy, and a key film for both Fassbinder and the New German Cinema.
The Merchant of Four Seasons & Beware of a Holy Whore – Synopsis
Made in quick succession in 1970 and 1971, Beware of a Holy Whore and The Merchant of Four Seasons represent a key stage in the career of Rainer Werner Fassbinder, the point at which he matured as a filmmaker and first began to attract an international audience. A fictional recounting of the making of Whity, Fassbinder's take on the American West, Beware of a Holy Whore is a backstage melodrama set in a Spanish seaside hotel. Starring Lou Castel (Requiescant) as the director and Eddie Constantine (Alphaville) as himself, the film is an intriguing and often acidic look through the mirror at Fassbinder and his 'family' of cast and crew.
The Merchant of Four Seasons concerns itself with Hans, a fruit seller, former Foreign Legionnaire and family man. Inspired by the discovery of Douglas Sirk's work – and set, like those classic melodramas, in the 1950s – Fassbinder charts Hans' downfall with a perfect blend of poignancy and high drama. The Sirkian formula worked so well it would inspire a new phase in the director's output and produce such classics as The Bitter Tears of Petra von Kant and Fear Eats the Soul.
The Marriage of Maria Braun  – Synopsis
 Rainer Werner Fassbinder's penultimate film of the seventies was also his most successful. Popular with audiences and critics alike, among them Roger Ebert and François Truffaut, The Marriage of Maria Braun finally provided its director with the international breakthrough he had craved for so long. Maria Braun marries a young soldier amid the Allied bombing raids of World World II the day before he must return to the Russian front. Awaiting his return in 1945, she is informed of his death and must endure and navigate the post-war years alone. Mirroring the German Wirtschaftswunder ('economic miracle'), she determinedly rises to prosperity as a self-made woman.
Centred on an astonishing performance from Fassbinder regular Hanna Schygulla in the lead role, The Marriage of Maria Braun took over four million Deutschmarks in its home country and made over a million dollars in the US. Such success proved influential too – without it we would likely never have seen Helma Sanders-Brahms's Germany, Pale Mother or Edgar Reitz's epic Heimat.
The Bitter Tears of Petra von Kant-  Synopsis:
Originally written and produced as a stage play, in transferring The Bitter Tears of Petra von Kant to the big screen Rainer Werner Fassbinder created another masterpiece to rank alongside a string of cinematic classics.
Petra von Kant, with two marriages behind her and an absent daughter, is a successful fashion designer. She lives with her secretary, the repressed and subservient Marlene, who will form the second point in a tragic ménage à trois when Petra meets and falls hopelessly in love with a confident young model named Karin.
Harking back to the women's pictures of Hollywood's yesteryear, The Bitter Tears of Petra von Kant is a magnificent showcase for Fassbinder's female stars. Margit Carstensen (as Petra), Irm Hermann (as Marlene) and Hanna Schygulla (as Karin) deliver outstanding performances, three of the finest the cinema has ever see
Limited Edition Box-set – Special Features
Limited edition box set (1,000 copies) containing Love is Colder Than Death, Katzelmacher, Beware of a Holy Whore, The Merchant of Four Seasons, The Bitter Tears of Petra von Kant, Fear Eats the Soul, Effi Briest, Fox and His Friends, Chinese Roulette and The Marriage of Maria Braun
Brand new 4K restorations of the films from original camera negatives
High Definition Blu-ray (1080p) presentations
Original uncompressed PCM mono audio
Optional English subtitles on all films
Six audio commentaries: Adrian Martin on Beware of a Holy Whore, Alexandra Heller-Nicholas and Christian McCrea on The Merchant of Four Seasons, Diane Charleson on The Bitter Tears of Petra von Kant, Mark Freeman on Fear Eats the Soul, Ken Moulden on Effi Briest and Hamish Ford on Fox and His Friends
Two early short films by Rainer Werner Fassbinder from 1966, The Little Chaos and The City Tramp
My Name is Not Ali, Viola Shafik's 2011 feature-length documentary on the life and death of El Hedi ben Salem, star of Fear Eats the Soul
Newly-filmed interview with actor Lou Castel on Beware of a Holy Whore
Newly-filmed interviews with actor Ulli Lommel on Love is Colder Than Death, Effi Briest and Chinese Roulette
Newly-filmed interviews with director of photography Jürgen Jürges on Fear Eats the Soul and Effi Briest
The Rainer Werner Fassbinder Family, an all-new featurette detailing the actors who worked with Fassbinder time and again throughout his career
Life Stories: A Conversation with R.W. Fassbinder, a 50-minute interview with the director conducted for German television in 1978
End of the Commune, Joachim von Mengershausen's 1970 documentary portrait of Fassbinder and his troupe including rare footage of his actors rehearsing and Love is Colder Than Death's premiere at the 1969 Berlin Film Festival
Role-Play: Women on Fassbinder, a 1992 documentary containing interviews with four of the director's leading ladies, Margit Carstensen, Irm Hermann, Hanna Schygulla and Rosel Zech
Life, Love & Celluloid, a 1998 feature-length documentary on Fassbinder, written and directed by his regular editor, Juliane Lorenz
Rainer Werner Fassbinder, 1977, a candid 30-minute interview with the director
Original theatrical trailers for Katzelmacher, Beware of a Holy Whore, Fear Eats the Soul, Fox and His Friends and Chinese Roulette
200-page hardback book, exclusive to this limited edition box set, containing all-new writing by Tony Rayns, Gertrud Koch, Michael Pattison, Nick Pinkerton, Ashley Clark, Erica Carter, Alex Davidson, Glenn Kenny and Margaret Deriaz
Fear Eats The Soul  – Special Features
Brand new 4K restoration from original camera negatives
High Definition Blu-ray (1080p) presentation
Original uncompressed PCM mono audio
Optional English subtitles
Audio commentary by critic and lecturer Mark Freeman
My Name is Not Ali, Viola Shafik's 2011 feature-length documentary on the life and death of El Hedi ben Salem, star of Fear Eats the Soul
Newly-filmed interviews with director of photography Jürgen Jürges
Theatrical trailer
The Merchant of Four Seasons & Beware of a Holy Whore – Special Features
Brand new 4K restorations of the films from original camera negatives
High Definition Blu-ray (1080p) presentations
Original uncompressed PCM mono audio
Optional English subtitles
Audio commentary on The Merchant of Four Seasons by critics Alexandra Heller-Nicholas and Christian McCrea
Audio commentary on Beware of a Holy Whore by Adrian Martin
Newly-filmed interview with actor Lou Castel on Beware of a Holy Whore
Beware of a Holy Whore theatrical trailer
The Marriage of Maria Braun  – Special Features
Brand new 4K restoration from original camera negatives
High Definition Blu-ray (1080p) presentation
Original uncompressed PCM mono audio
Optional English subtitles
Life, Love & Celluloid, a 1998 feature-length documentary on Fassbinder, written and directed by his regular editor, Juliane Lorenz
Rainer Werner Fassbinder, 1977, a candid 30-minute interview with the director
The Fassbinder Family, an all-new featurette detailing the actors who worked with Fassbinder time and again throughout his career
The Bitter Tears of Petra von Kant-  Special Features
Brand new 4K restoration from original camera negatives
High Definition Blu-ray (1080p) presentation
Original uncompressed PCM mono audio
Optional English subtitles
Commentary by filmmaker and lecturer Diane Charleson
Life Stories: A Conversation with R.W. Fassbinder, a 50-minute interview with the director conducted for German television in 1978
Role-Play: Women on Fassbinder, a 1992 documentary containing interviews with four of the director's leading ladies, Margit Carstensen, Irm Hermann, Hanna Schygulla and Rosel Zech