Rocco and His Brothers (1960)
Directed by: Luchino Visconti
Written by: Giovanni Testori, Luchino Visconti, Massimo Franciosa, Pasquale Festa Campanile, Suso Cecchi D'Amico
Starring: Alain Delon, Annie Girardot, Katina Paxinou, Renato Salvatori

Italy
AKA ROCCO E SUOI FRATELLI
AVAILABLE ON BLU-RAY: 14TH MARCH, from EUREKA ENTERTAINMENT

RUNNING TIME: 177 min
REVIEWED BY: Dr Lenera, Official HCF Critic
After the death of her husband, the widow Rosaria Parondi, along with four of her five sons, moves from the village of Lucania to the city of Milan, where her fifth son, Vincenzo, already lives. They drop in at Vicenzo's and find themselves in the middle of his engagement party. Friction between Rosario and Vicenzo's fiancée Ginetta causes them to leave, including Vicenzo. Without much money, the Parondi's intend to do what lots of poor immigrants do in Milan; rent an apartment which they can only pay for for a few months, then get themselves thrown out so they can be re-housed by the authorities who don't like to leave people living on the street. Except for Luca the youngest, the brothers set out to find work, which isn't easy, but life doesn't really seem too bad until a woman comes between two of them….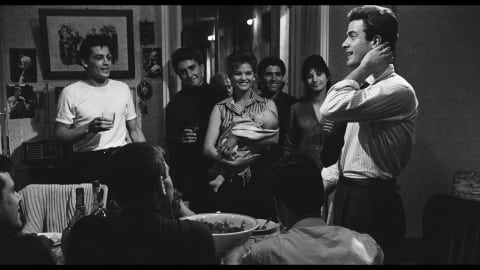 For a film lover, I don't think there's anything more enjoyable then that rush you get when you're watching a great movie for the same time. Sometimes it starts not long after the opening credits, but usually it's some time later when you realise that the film has totally and utterly grabbed you, that you don't want it to let go, and that, unfortunately, the thing has to end at some point, but you finish the film incredibly fulfilled and happy that it is now in your life. Rocco And His Brothers was totally absorbing to me immediately and the three hour running time flew by even in the earlier scenes, something that really surprised me because I expected something slow and heavy going [which can be good too in the right movie], much like the only other film directed by Luchino Visconti that, to my shame, I've seen, Death In Venice, which is a film I adore but one I need to be in a certain frame of mind to enjoy [if indeed a work of such profound sadness can truly be enjoyed]. But Rocco And His Brothers felt fresh and vibrant from the outset and about half way through it, that rush which I spoke about at the beginning of this paragraph took hold of me and didn't let go, while at the same time I realised that I didn't have much of a clue where the movie was going, which is always a delight. The film seems to be regarded as part of the Italian Neorealist movement, not a type of film I've experienced at all, but to my eyes it more resembles an Italian opera in feel. The mixing of social realism and operatic melodrama perhaps shouldn't work, but it does, superbly.
The credits say that Rocco And His Brothers was based on a portion of the novel Il ponte della Ghisolfa by Giovanni Testori, but it was also inspired by the real lives of migrants who lived in Milan's Porta Ticinesse, a sordid slum, plus Thomas Mann's Joseph and His Brothers, Fyodor Dostoyevsky's The Idiot, and Arthur Miller's play A View From the Bridge, which Visconti directed for the theatre in 1958 when he was planning Rocco and His Brothers. The screenplay went through numerous writers and drafts during pre-production and at one point had the brothers transporting oil between Lucania, their hometown, and Milan, while the ending consisting of Rocco going mad and his mother returning to Lucania. Visconti cast Renato Salvatori in the role of Simone, the brother who becomes a boxer, when he saw the actor get into a fight with Italian star Umberto Orsini over actress Rossella Falk. The film was shot largely on location in Milan but the local authorities wouldn't let him film the climactic murder at the location he wanted, partly because a similar killing had recently occurred there in real life, so it was shot in Latina. The completed film was seized by the police who insisted that four contentious scenes be cut. Visconti removed some shots from two scenes and darkened two others. The film was still Visconti's first major hit. The American version removed half an hour and there was even a 95 minute version. Director of photography Giuseppe Rotunno put together a restored full version in 1991.
The opening titles immediately grab you with Nino Rota's extremely emotive main theme which half way through turns into an Italian song sung over a guitar, the combination immediately setting the right mood for what is to follow. Now something I expected there to be a great deal of in this movie was the clash between the villagers and the townsfolk, including lots of bad reactions from the natives of Milan to these yokels living in their city, but actually there isn't very much of that at all in a movie that consistently subverts expectations and steadfastly refuses to do what you expect it to do. The emphasis is on family and love. Much like The Godfather, which I think has a similar feel to this movie and with which it shares some crew members [and I can see echoes of this movie in Mean Streets too in the central relationship] and even a very similar waltz heard every now and again in the score, family is the most important thing in the film, though it's shown to have its flaws, even when people make sacrifices for family throughout, from Vicenzo all but giving up his fiancée at the beginning because his mother didn't like her, to Rocco doing that he thinks is best for his brothers throughout, often to the point of lunacy. And as for love….well, love of the romantic kind is shown positively in some circumstances, but the overriding impression is that it's a force that can be very destructive if you're not careful.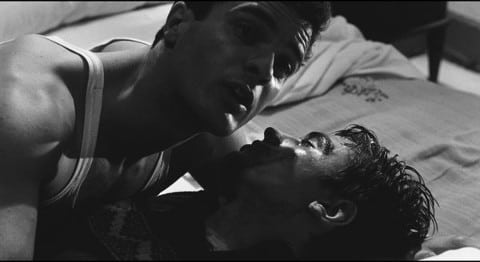 We follow the brothers as they try to find work. I'm not sure that we're ever told what Vicenzo does for a living, but he soon hooks up with his fiancée again and his character moves somewhat into the background, much like little Luca. Meanwhile Jiro stays up all night studying, becomes a car mechanic and finds himself a nice lady. The emphasis though is on Rocco and Simone, and it's their relationship that is really the heart of the film. Rocco has trouble adjusting to his new life but eventually finds a job at a laundrette and also goes into the Army for some time. Simone decided to become a boxer, and is initially very successful but always finds himself short of money, so he takes to stealing and worse. One of the things that I found really interesting about this movie is that Simone becomes a real villain and commits some horrible acts, but he remains somewhat sympathetic, the script taking care to let you know the torment he's going through. There's a subtle homosexual element, most notably when Simone engages in what seems like a sex-money exchange with his manager, which isn't entirely worked through, but then it was 1960. Then there's Nadia, the prostitute who has a fling with Simone, then genuinely falls in love with Rocco but ends up breaking the hearts of both brothers, though not intentionally. What could have been the archetypal cliched 'tart with a heart' character ended up for me the most rounded and the saddest character in the film, even if some things are still enticingly vague. There's one scene involving her telling of her sordid upbringing, then saying that she was lying and that her childhood was very happy, which remains especially puzzling because you don't know which is the truth.
It's around the middle where Rocco And His Brothers stops just being very good and becomes extremely good, as things suddenly take a darker turn in an extremely intense scene which certainly took me by surprise, and the story then adopts the fatalistic power of a Greek tragedy. It climaxes with a murder scene that I found to be one of the most disturbing I've seen in years [though partly because one doesn't expect a film of this vintage to be so savage, even remembering that 1960 was also the year of Psycho] from the victim embracing the killer with open arms in a image deliberately recalling the Crucifixion, to the frenzied stabbing of the victim who suddenly decides that she doesn't wish to die at all and is struggling to stay alive, the latter being a really upsetting image that will stay with me for some time. Small wonder that it was censored when the film first came out. An earlier fight scene is staged and shot in a most unusual manner, largely photographed from a distance so the combatants are dwarfed by their surroundings, most notably the huge slum apartment blocks, the story of the two people fighting only being one of probably many stories which are similar. Giuseppe Rotunno's cinematography is outstanding throughout without necessarily drawing attention to itself. A painterly shot of two of the brothers talking in the foreground while you can just make out boxers training in the fog-shrouded park behind them impressed me so much that I rewound the Blu-ray to see it again. And the scene where Simone comes home may be simply a mother opening the door to reveal her prodigal son, but the way the scene is composed, lit, and the way the characters are choreographed within the frame is breathtaking. And then Simone looks up and seems to look at the camera, and at the audience, and then his mother turns towards us to tell us he's home. On the evidence of just two films, I can conclude that Visconti was truly a master.
The performances get rather melodramatic towards the end, but then so does the film, and I'm not sure if a lot of people wouldn't react in a similarly over the top way to the things that are befalling them. Because the film was shot silently like most Italian films of the time, some of the acting is hampered by dubbing from voices not belonging to the original cast members, but Alain Delon and Annie Girardot are still good [though you can switch over to the French langauge track on the Blu-ray to hear their original voices, which I did a few times, and the performances seem to improve considerably]. The standout turns are really by Renato Salvatori, who truly helps to make the both brutal and pathetic Simone into a guy you just can't bring yourself to hate, and Katina Paxinou, playing one of the most formidable Italian mothers in movies. Rota's score provides several memorable themes which back up the movie perfectly, a movie in which I could find very few flaws. It doesn't even moralise like many films of the time. It deals with the differences between the city and the country but it does not make any simple pronouncements about the superiority of country life. Instead, it questions the validity of those values in a place and period of time that requires new rules. It also dares to provide an extremely poignant but slightly disturbing final scene where a boy looks at pictures of somebody, then touches the face on one of the pictures, like he's a saint. However, one can't help but remember that the previous three hours have told us that this guy, while admittedly trying to do good throughout, was hardly somebody to worship at all.
Rating:
Eureka Entertainment's Blu-ray, taken from an Italian restoration, looks absolutely stunning and I don't think that I've ever seen a black and white film of this vintage ever look better. The film is prefaced by words informing us that the previously censored material comes from inferior sources but I didn't notice any difference. Blacks are especially superb in an astonishingly sharp print that should be the benchmark for restorations of movies like this. The French track seemed to me to be somewhat quieter and less well balanced though certainly not in a major way. The special features duplicate the 2008 Eureka DVD but seemed pretty exhaustive to me even if most of them seem to be from TV. I watched the insightful Visconti documentary which gave me a nice overview of this filmmaker I knew little about, and the fascinting interview with cinematographer Giuseppe Rotunno.
SPECIAL FEATURES:
*Gorgeous high-definition 1080p presentation from a new 4k restoration
*Optional English subtitles
*Two audio choices; the original Italian, and the French dub
*Les coulisses du tournage, a 2003 French documentary about the film
*A 1999 interview with Visconti's cinematographer Giuseppe Rotunno
*An interview with actress Claudia Cardinale
*A 2002 interview with actress Annie Girardot
*Luchino Visconti, an hour-long documentary about the life and work of Visconti
*Two vintage newsreels
*Original Italian trailer
*PLUS: A 40-PAGE BOOKLET featuring writing by Guido Aristarco, an essay written by the director in 1960, a vintage interview with Visconti and rare archival imagery.