The Night Evelyn Came Out of the Grave (1971)
Directed by: Emilio Miraglia
Written by: Emilio Miraglia, Fabio Pittorru, Massimo Felisatti
Starring: Anthony Steffen, Enzo Tarascio, Giacomo Rossi Stuart, Marina Malfatti

AKA LE NOTTE CHE EVELYN USCI DALLA TOMBA, THE NIGHT SHE ROSE FROM THE TOMB, EVELYN RAISES THE DEAD

ITALY
AVAILABLE ON DUAL FORMAT BLU-RAY AND DVD: 23RD MAY, in ARROW VIDEO'S 'KILLER DAMES' BOXSET
RUNNING TIME: 104 min

REVIEWED BY: Dr Lenera, Official HCF Critic

Alan Cunningham is a wealthy aristocrat who has just been released from a mental institution following the death of his wife, redheaded Evelyn, whom he caught making out with another man prior to his institutionalisation. Still insane, the psychotic Alan begins luring redheaded strippers and prostitutes to his home to torture and kill them, as a means to deal with his grief and inability to get revenge on his deceased wife. His Aunt Barbara suggests that a séance may cure him if he can make contact with Evelyn, but Alan faints before a link can be made. Alan's cousin and only living heir Farley then suggests that would be cured of his instability if he replaced Evelyn with a new bride that resembles her….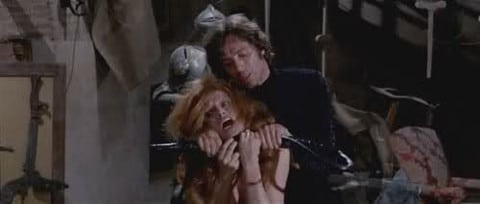 When is a giallo not a giallo? I've always thought that a giallo had to be an Italian mystery thriller involving vicious murders [black gloves preferred but not essential], the subgenre basically invented by Mario Bava's two films The Girl Who Knew Too Much and Blood And Blood Lace, and kickstarted into popularity by Dario Argento's The Bird With The Crystal Plumage, but there are some who stretch the label to include other forms of Italian thrillers or horror movies. There were lengthy passages when The Night Evelyn Came Out Of The Grave didn't seem much like a giallo at all to me, at least not until its second half, but then this is a film that bewilderingly changes tack several times during its running time, even if ostensibly it's a combining of the giallo with the Italian Gothic horror film of the 1960's like Nightmare Castle and The Terror Of Dr. Hitchcock, films which were themselves inspired by the classic Roger Corman/Edgar Allan Poe pictures. It also reminded me of Bava's A Hatchet For A Honeymoon and Les Diaboliques. Unsurprisingly, this makes for a somewhat uneven movie that doesn't really hang together, and nor is it particularly original, as most of the things in it have been seen in other movies, but it's certainly a very entertaining one that fans of Italian horror really have to see. I can't believe it's taken me until now to see it, courtesy of Arrow Video's release which pares the film with director Luciano Ercoli's The Red Queen Kills Seven Times.
An introductory scene, with which along with much of the violence and nudity used to be missing from some versions of a film which has been much hacked about over the years, has a man, his POV conveyed by blurry shots, escaping from the room where he's been kept and fleeing the grounds of an asylum to be recaptured by two pursuing doctors. We never visit this place again, us next seeing the same man in a car offering money to a girl if she'll be nice to him. He takes her into his dilapidated castle room and into a rather more furnished room where he pours her a glass a J & B whisky? Ten or so minutes into the film and already J & B is on show! The man then takes her what is obviously his torture room, gets her to put on some kinky boots, whips her, straps her down and is about to brand her before he goes into some kind of trance and we see slow-motion footage of a woman running naked in a garden towards her also-nude lover before he stabs her [oddly, offscreen]. Suspenseful, lurid and certainly grabbing the viewer's attention, it's a killer of an opeing reel. Of course the man is our main protagonist Alan, and he probably does this a lot. It's not long before he finds another girl to have his fun with, though this one is almost asking for trouble considering she's a stripper whose act involves slowly climbing out of a coffin, gyrating bum first. Alan is haunted by the death of his cheating wife Evelyn [did he or did he not kill her?], and feels that he has to brutalise and kill similarly red-headed women. He's able to get away with this because he is rich enough to just throw money into the hands of any potential blackmailers
One of the things that makes this film rather intriguing is that, despite the things that he does, we actually want Alan to get 'sorted' in the head and even feel rather a bit sorry for him, though when the second half of the film gets underway I wished that the movie hadn't bothered with some of the happenings which we see in the first half, bits which feel very exploitative with hindsight [though of course it's foolish to complain about films of this era, type and genre being exploitative!], so that we could sympathise with Alan even more instead of feeling more scared for his new wife, while the bondage aspect totally disappears! There's an amusing bit where his cousin [who seems to be a typical giallo gay character, though this isn't followed through] gives him a list of the "numbers and addresses of all the loveliest women in London", especially considering at no stage in the film does it look like we are in England. The cars even drive on the wrong side of the road. He manages to 'pull' and marry the lovely Gladys in record time [there's a funny scene where he follows her through a maze and couples are making out everywhere], and soon she's living in his gloomy castle abode, but what are those nocturnal banging noises? Why does his glass of milk disappear? Why does Gladys say she saw a red-headed maid? Why is Aunt Agatha lurking around? And Evelyn's brother? And is that Evelyn herself that we see?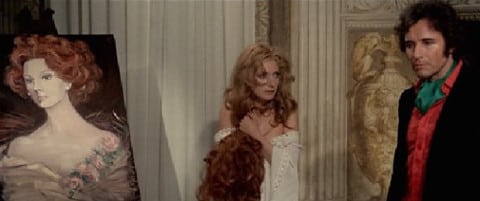 The story, which also resembles one of those twisty Jimmy Sangster-scripted Hammer thrillers in places, piles on the intrigue well, while eventually murders do begin to occur in typical giallo style [though in one bit this killer has yellow gloves], the most memorable one being when someone is knocked out, then dumped from her wheelchair into a cage of foxes who eat her amidst shots of probably real animal intestines. Unfortunately, director Emilio Miraglia doesn't really try to make the proceedings scary – there were some moments that I felt should have given me a real chill but didn't succeed in doing so – while the tale, despite winding up quite memorably with surprises galore [including a very handy bag of sulphuric acid left lying around], ends up leaving a lot hanging. Miraglia does conjure up one extremely evocative pursuit sequence in the foggy woods surrounding the castle where Alan's blurry POV is well used again, while cinematographer Gastone di Giovanni emphasises red here and there and gives us a few memorable shots like Alan and Gladys's faces shown on either side of the screen while part of Alan's face is reflected in the car mirror at the top of the screen. Overall though The Night Evelyn Came Out Of The Grave isn't as stylish as you might expect and doesn't make the most of certain things like it's terrifically Gothic main locale, though it's still well made in most respects.
Anthony Steffen, as long as you watch the Italian language version, does quite well as Alan, though he's bettered by Marina Mallfatti as Gladys in a performance which is rather subtle, while a few familiar faces from other giallos turn up here and there. There's also a lot of female nudity, which will either be pleasing or crass depending on your point of view. I plead guilty to leaning more to the first term. The score by Bruno Nicolai is pretty diverse as it incorporates a very lovely and very Ennio Morricone-like main theme replete with Edda dal' Orso wordless female singing, psychedelic rock [though some of this is borrowed from Nicolai's score to Eugene, The Story Of Her Journey Into Perversion] and moody suspense cues which mostly hold back on histrionics. As long as you like your Italian horror [this isn't really the place to start], there's a hell of a lot to enjoy in The Night Evelyn Came Out Of The Grave, even though I feel that the script could have done with some tying up of loose ends [there's nothing wrong with leaving the viewer to work some things out, but there's so much that's left unexplained here] and Miraglia could have tried to provide a bit more tension and even some terror. I had a good time overall with this movie despite its flaws, and I have a feeling that I'll revisit it more often than some of the better films of its kind.
Rating:
A film which has had a very checkered history on video and even DVD, The Night Evelyn Came Out Of The Grave gets probably its best home viewing release courtesy of Arrow Video. The print is rich and vibrant and shows off the various shooting styles di Giovanni utilised for the film [which include some very modern-style handheld stuff]. As usual, the Italian language track, even though most of the cast seem to be mouthing English, is much preferable to the English language one which seems to be packed with a variety of mostly phony regional UK accents. Arrow have been able to port over the special features which were on NoShame's 2006 DVD release, and they can be accessed in an Archival Special Features section, but I went straight to the new extras. The interview with Erika Blanc is an absolute joy to watch as the lady, who seems to relish being interviewed and being in the film, tells amusing stories about the production, admits that she enjoyed being whipped by Anthony Steffen, and finishes by showing her Playboy photo. What a gal. Stephen Thrower offers a good, if short and sweet, look at the film while another fine genre writer Troy Howarth provides his first audio commentary, of which I heard about 15 minutes. Refreshingly critical of the movie, Howarth has a bit of a way to go before matching the great Tim Lucas in this kind of thing, but his track seems to be a good effort nonetheless; highly informative, with very few gaps, and definitely worth a listen.
SPECIAL FEATURES
KILLER DAMES BOXSET
*Limited Edition box set (3000 copies) containing The Night Evelyn Came Out of the Grave and The Red Queen Kills Seven Times
*Brand new 2K restorations of the films from the original camera negatives
*High Definition Blu-ray (1080p) and Standard Definition DVD presentations
*Original Italian and English soundtracks in mono audio (lossless DTS-HD Master Audio on the Blu-ray Discs)
*Newly translated English subtitles for the Italian soundtracks
*Optional English subtitles for the deaf and hard of hearing for the English soundtracks
THE NIGHT EVELYN CAME OUT OF THE GRAVE
*Limited Edition 60-page booklet containing new writing by James Blackford, Kat Ellinger, Leonard Jacobs and Rachael Nisbet
*New audio commentary by Troy Howarth
*Exclusive introduction by actress Erika Blanc
Writer Stephen Thrower on The Night Evelyn Came Out of the Grave
*The Night Erika Came Out of the Grave – exclusive interview with Erika Blanc
*The Whip and the Body – archival interview with Erika Blanc
*Still Rising from the Grave – archival interview with production designer Lorenzo Baraldi
*Original Italian theatrical trailer
*Reversible sleeve featuring original and newly commissioned artwork by Gilles Vranckx
Review of The Red Queen Kills Seven Times coming soon!