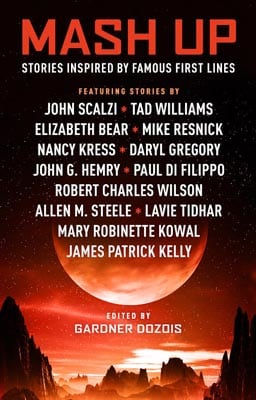 Titan Books are set to publish anthology novel MASH UP, edited by Gardner Dozois, on 7th June 2016 in paperback and ebook format.
Pride and Prejudice meets Macbeth by way of Moby Dick and a dollop of the speculative in this hugely entertaining anthology. Some of the best-known names in speculative fiction feature in this selection of short stories inspired by the first lines of famous works of literature. Edited by respected anthologist Gardner Dozois and featuring Mary Robinette Kowal's Hugo Award- winning novelette: 'The Lady Astronaut of Mars,' this collection will delight fans of literary and genre fiction alike.
Gardner Dozois is the founder of The Year's Best Science Fiction anthologies (1984 to present) and he was editor of Asimov's Science Fiction magazine (1984-2004), garnering multiple Locus and Hugo Awards virtually every year. He has also won the Nebula Award for Best Short Story twice. He was inducted into the Science Fiction Hall of Fame in 2011.