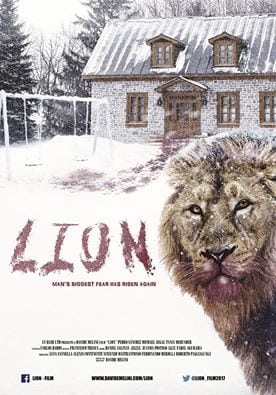 Deep Shock and The Sweet Hand of the White Rose director Davide Melini returns this Halloween 2016 with short film LION.
Produced by Luca Vannella ("Thor", "Harry Potter", "Apocalypto", "Heart of the Sea"), Alexis Continente ("Thor", "Penny Dreadful"), Vincenzo Mastrantonio ("Titanic", "Moulin Rouge", "The Passion of Christ", "Romeo + Juliet"), Bobby Holland ("The Dark Knight Rises", "Game of Thrones", "Sherlock Holmes: A Game of Shadows", "007 – Quantum of Solace"), Ferdinando Merolla ("Troy", "Gangs of New York", "Hannibal Rising") and Roberto Paglialunga and starring Pedro Sánchez, Michael Segal ("Colour from the Dark", "Anger of the Dead") and Tania Mercader, LION has been shot using the Red Epic Dragon 6K. Once again the film has been written and directed by Melini who's worked on Dario Argento's Mother of Tears: The Third Mother and hit TV series Penny Dreadful.
"An isolated chalet in a snowy forest… A man blinded by alcohol… A woman unable to rebel… And an 8-year-old child troubled and dark… The silent night is broken with cries… the start of a terrible nightmare!"
Check out the teaser trailer for LION below!