The Devil-Ship Pirates (1964)
Directed by: Don Sharp
Written by: Jimmy Sangster
Starring: Andrew Keir, Christopher Lee, Duncan Lamont, John Cairney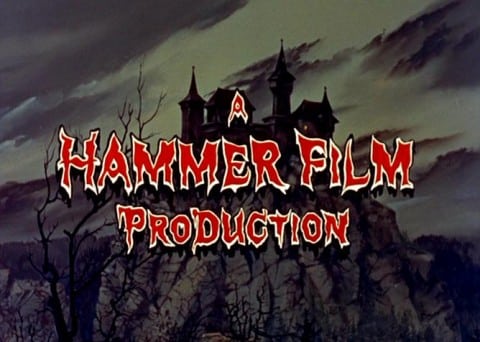 UK
AVAILABLE ON DVD
RUNNING TIME: 84 min
REVIEWED BY: Dr Lenera, Official HCF Critic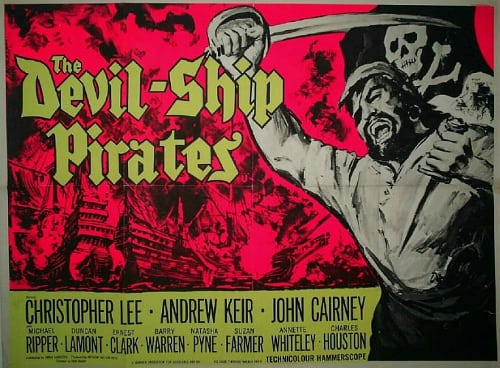 A pirate ship, fighting in 1588 on the side of the Spanish Armada, suffers extensive damage, and Captain Robeles, who rules over his crew with an iron hand, decides that they must put into a village on the British coast for repairs. Kidnapping local girl Jane when she sees them, they discovering that the villagers are unaware that the English have won the battle, and the Spanish go on to convince the villagers of the opposite and that they are now their masters. Young lad Smiler is sent to get help but the Spanish create road blocks so no one can go in or out of the village. Spaniard Don Manuel Rodriguez de Savilla doesn't like that Robeles and his crew want to return to piracy though….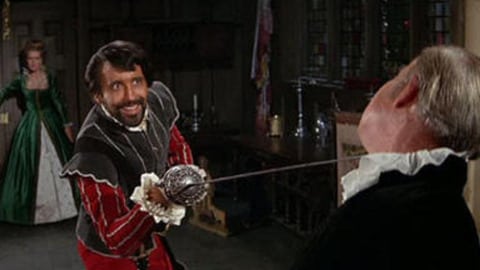 Paramount requested a similar film to The Pirates Of Blood River when that film cleaned up as a matinee release, so Hammer obliged with The Devil-Ship Pirates, which was made with much of the same crew and with Christopher Lee [unbelievably, first billed for the first time in a Hammer film], Andrew Kier and Michael Ripper [with far more lines than usual] virtually repeating their roles, though Lee is much more pantomime-ish here. This follow-up, reminiscent of Went The Day Well and released on a double bill with the Italian sword and sandal flick The Secret Seven, has a bit less action, a few swordfights here and there [Lee, the actor who had more screen duels than any other, given a chance to show his fencing skills] notwithstanding, but it's stronger on characterisation, even bringing in a sympathetic Spaniard and a fairly unsympathetic Englishman to balance things out. It's also a more lavish looking production, Hammer even being able to stage a battle scene with lots of model ships over the opening titles and build a 120 foot replica of a Spanish battle vessel, though the thing caused so much trouble – from actually floating on the water due to its mechanics to tipping most of the cast and crew into the water when they all went to one side when tea arrived – that the normally ever so frugal Hammer were only too happy to blow it up in the climax!
An odd example of a 'U' certificate film raised now to a 'PG', its scenes of flogging, hanging and sexual threat obviously considered fine for unaccompanied kids [who would of course have probably loved it – it's a shame that what entertained youngsters back then will probably bore most of today's lot] back in 1964, The Devil-Ship Pirates is seriously flawed by the disappointingly low amount of tension wrought from what is a pretty good premise, though Robeles always seems like he's always about to kill somebody whenever he's on screen. John Cairney is a little less bland than your average young Hammer lead but Barry Warren is more interesting as Rodriguez de Savilla, though he's a more interesting character anyway. Similarly, Suzan Farmer has the more screen time on the female side but Natasha Pyne has far more fun stuff to do. I couldn't work out which of the two sisters Harry was supposed to be romancing [or maybe it was both]. Composer Gary Hughes contributes another of his swashbuckling themes. This is fairly enjoyable fare, but there's nothing really memorable in it and it's the kind of film you'll probably forget about a few days after you've watched it.
Rating: