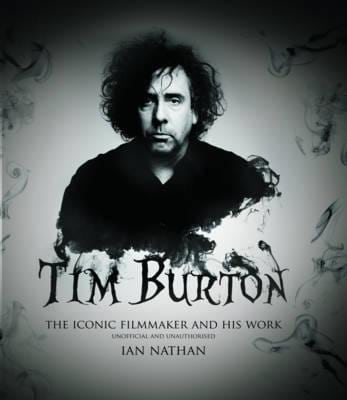 TIM BURTON: THE ICONIC FILMMAKER AND HIS WORK
by Ian Nathan
Published by Aurum Press
Available from Book Depository
Tim Burton is one of the world's most unique cinematic visionaries with his work giving birth to the term Burtonesque to describe his gothic, fantastical style often inspired by his own childhood, his love of classic horror and sci-fi movies and his wild imagination. TIM BURTON: THE ICONIC FILMMAKER AND HIS WORK by Ian Nathan explores Burton's career from his beginnings as an animator to directing his most recent film, Miss Peregrine's Home For Peculiar Children.
The 9″ by 10″ hardback book in silver burst, with its portrait of Tim Burton on the front and scene from The Nightmare Before Christmas on the back, is wonderfully presented in a hard slipcase and inside contains a fold-out timeline of the movies that Burton has worked on over the years, including his planned Beetlejuice sequel and Dumbo live-action film that are scheduled for 2017, should they come to fruition.
Former editor of Empire magazine, Ian Nathan, chronicles Tim Burton's career in this wonderful, unauthorised book, exploring his beginnings at CalArts with his short films before being hired by Disney to work on The Fox and the Hound. Discover how Frankenweenie brought Paul Ruebens and Burton together for Pee-wee's Big Adventure before Burton finally unleashed fully his own dark style in Beetlejuice. Reading how actor Michael Keaton was initially hesitant to play the titular bio-exorcist was a revelation but it was a delightful one to learn how Keaton was given the go-ahead to develop a middle-Eastern, sinister character, as depicted in the original script, into the mischievous Betelgeuse we know and love today.
Burton fan's will rejoice at the book's detailing of the working relationship between himself and Johnny Depp, who he first cast as the sweet, innocent Edward Scissorhands. Reading about their work on other titles such as Ed Wood, Sleepy Hollow, The Corpse Bride, Sweeney Todd, Dark Shadows, Charlie and the Chocolate Factory and Alice in Wonderland will remind you just how tight their bond is as Depp manages to bring forth the creation in Burton's mind.
The book details lots of little things about each movie it covers from potential castings to little things that Burton or the cast decided upon during the shoot. As a fan of many of Burton's movies, I enjoyed reading about Burton's love of particular films that inspired him and how he fought, despite public outcry, to get his vision made (particularly his choice of Michael Keaton for Batman). Here's a director who knows what he wants and chooses to run with it, bringing his own style firmly stamped to the films he produces. His love for stop-motion animation, particular the work of Ray Harryhausen, is also evident to see in his back catalogue, obviously with such efforts as The Corpse Bride, The Nightmare Before Christmas and the feature length remake of his own live-action short, Frankenweenie. Author Ian Nathan manages to string each of these titles together to bring a fully rounded story of Burton's career that in itself is a wondrous fairytale of its own.
Whilst it might not be an in-depth look at each of the movies in Tim Burton's career, TIM BURTON: THE ICONIC FILMMAKER AND HIS WORK certainly works well as a career biography complete with behind-the-scenes photos and movie stills accompanying the appreciative writing about one of the most important storytellers of our generation.
This book is a charming read for lovers of all things Burtonesque in a beautifully presented release that collectors can cherish.
Rating: