Blood Punch (2014)
Directed by: Madellaine Paxson
Written by: Eddie Guzelian
Starring: Adelaide Kane, Ari Boyland, Cohen Holloway, Milo Cawthorne, Olivia Tennet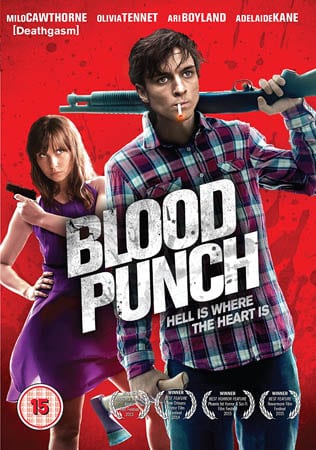 BLOOD PUNCH (2014)
Directed by Madellaine Paxson
When chemistry student Milton channels his inner Walter White and gets thrown out of college for building a meth lab, he ends up inside a rehab prison where he meets scheming Skyler. On a mission to find a meth cook, she breaks Milton out of rehab so that he can help her and boyfriend Russell earn their biggest payday. The catch? Russell is a psycho and has every intent on killing Milton once the job is done but it seems the universehas other plans as they're forced to relive the same day over and over again.
Indie horror thriller BLOOD PUNCH takes the sci-fi elements of Groundhog Day and countless other time loop movies to give us an entertaining look at what would happen if you had to prevent your death over and over again. First things first is you'd kill the son of a bitch who's trying to do you in and that's exactly what Milton and unexpected partner-in-crime Skyler do. However, when that same chap decides to come back to life, as though nothing's happened, every morning, it means you have to kill him again and again which opens up exciting opportunities in how to dispatch someone. Imagine having all sorts of tools at your disposal and having the chance to try them all out. Situated in a remote hunting lodge, Milton and Skyler have a wide range of weapons at hand from crossbows to axes and if a quick death is needed, the good ol' fashioned pistol to use to take out psychotic Russell. But how long can this bloodbath go on for?
The main driving-force of the film is trying to discover a way out of the Groundhog Day once they've entered it. Milton, Skyler and Russell are all a part of it and no matter what they do, they always end up waking up at the hunting lodge. With all his brains, maybe Milton can find a way out of the time loop so they can finally say goodbye to the never-ending Tuesday. However, they'll have to make sure the right set of events occur that day to ensure they live to see the next.
A film like this means we spend a lot of time with the three main characters and it's just as well they're quite likable in their own way. Milton (Deathgasm's Milo Cawthorne) is a quiet nerd who appears to have fallen for the straight-talking, blunt badass Skyler (Olivia Tennet), a young woman who you never figure out where her loyalties lie. Her attachment to boyfriend Russell (The Tribe's Ari Boyland), a handsome but seriously unhinged cop, seems to be submissive rather than on equal terms. Having to reiterate everything he says when prompted else in fear of his reaction, Milton gets the impression she's trapped in the relationship and wants out, maybe even with Milton himself. This love triangle forms a basis of who to trust. One minute Skyler is bonking Milton's brains out, the next she is by the side of Russell. Little things point to her unhappiness with Russell but is she playing a game?
These films can either work or not, but BLOOD PUNCH keeps the momentum going that we're never fed up with the outcome of every Tuesday. It's fun to see them explore different ways of executing the day and wondering if they'll ever make it to Wednesday. The script, performances and narrative are strong enough to keep you engaged whilst adding a bit of humour with Skyler's putdowns and the antics of her old associates, shellsuit throwback Archer and his dominatrix assistant Nabiki. The fact that the majority of the main cast appear to have been lifted from Power Rangers R.P.M. may no doubt explain the realistic rapport the characters have with each other. The only real issue this film contends with is the use of cheap, post-production vomit noises and door creaks which weaken the otherwise quality production.
An intriguing, entertaining slice of time-loop, blood-splatted action, BLOOD PUNCH is well worth a look.
Rating:
Save