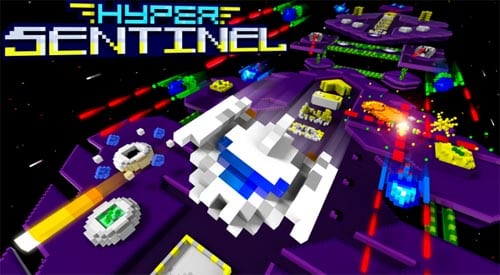 Hyper Sentinel, a retro gaming inspired shoot 'em up presented by UK games industry pioneer Andrew Hewson, has been successfully funded on Kickstarter with 18 days still to run in the campaign. Hyper Sentinel will now launch on Steam, PS4, Xbox One, Android, iOS and Amazon platforms this summer.
Developed by indie developer Jonathan Port (aka Four5Six Pixel), Hyper Sentinel is inspired by the classic shoot 'em ups he played in his youth such as Uridium, Tornado Low Level, Cybernoid, Delta, Armalyte, Sanxion and Defender. While Hyper Sentinel is loaded with retro references, Jonathan has also designed the game to offer a distinct shoot 'em up experience, with unique weapon upgrades and epic boss encounters. The result is a super-fast, action packed game which marries classic arcade action with contemporary gameplay.
Four5Six Pixel is partnering with Huey Games on the project. Huey, a new company founded by industry veterans Rob Hewson and John Ogden, are helping with design feedback, porting of the game to various platforms and are handling publishing duties.
"The retro gaming community who grew up playing the games we published in the 1980s have once again been wonderful – encouraging, supporting and backing Hyper Sentinel all the way. Without them the project would not have been able to continue. Now it is up to us to deliver the game they deserve."
– Andrew Hewson, games industry pioneer and founder of Hewson Consultants
"Huey Games is a fresh name for a new generation of games, and we are delighted to be able to confirm Hyper Sentinel as one of our first titles, thanks to the belief of our backers. Now the next step of our journey begins."
– Rob Hewson, CEO & Creative Director of Huey Games Ltd
"The response to the demo has been incredible, and getting Hyper Sentinel funded so quickly is a huge boost for us. We've got some great stretch goals planned, and we are excited to see how far we can take this game."
– Jonathan Port, Founder of Four5Six Pixel