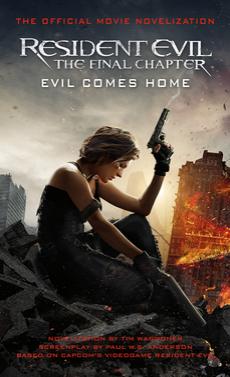 Today sees the publication of the RESIDENT EVIL: THE FINAL CHAPTER from Titan Books.
This is the official novelization of Constantin Film's, Resident Evil: The Final Chapter, directed by Paul W. S. Anderson and starring Milla Jovovich, Ali Larter, Shawn Roberts, Iain Glen and Ruby Rose. The sixth and final
installment of the Resident Evil series, the film picks up immediately after the events in Resident Evil: Retribution.
As the only survivor of what was meant to be humanity's final stand against the undead hordes, Alice must return to where the nightmare began — Raccoon City, where the Umbrella Corporation is gathering its forces for a final strike against the only remaining survivors of the apocalypse. In a race against time Alice will join forces with old friends, and an unlikely ally, in an action-packed battle with undead hordes and new mutant monsters.
Tim Waggoner has published more than thirty novels and two short story collections, including tie-ins to Resident Evil, Supernatural, Grimm, Stargate SG1 and Nightmare on Elm Street. He teaches creative writing at Sinclair Community College and in Seton Hill University's Master of Fine Arts in Writing Popular Fiction program.
© 2016 Constantin Film Produktion GmbH. Motion Picture Artwork © 2016 CTMG. All Rights Reserved.