Willie Dynamite (1974)
Directed by: Gilbert Moses
Written by: Joe Keyes Jr., Ron Cutler
Starring: Diana Sands, Joyce Walker, Roscoe Orman, Thalmus Rasulala

WILLIE DYNAMITE (1974)
Directed by Gilbert Moses
Garishly dressed pimp Willie Dynamite has high hopes for his beautiful ladies. He knows they're of the calibre to take him to the top of the food chain in New York City but the police, rival pimps and social worker Cora are intent on sabotaging those plans.
After having already released quite a fair share of Blaxploitation classics, Arrow Video have kicked off 2017 by releasing the flamboyant Willie Dynamite. Willie is a passionate pimp who loves to look good, whether it's wearing the most brightly coloured, hats and coat combination trimmed with mink, or driving around the city in his chrome-accented purple cadillac. Despite providing a service many of the businessmen visiting the city aprove of, it seems the police don't take too kindly to his choice of career. With the police breathing down all their necks, the local pimps hold a meeting to discuss a plan of action which involves sharing the turf, something which Willie refuses to do. He wants to be number 1, you see, and feels his girls deserve to prowl whatever piece of turf they desire to snare their clients. Willie's admiration for his women doesn't extend to respect though as he often lavishes them with gifts worth half the amount he says they cost and decides to raise a hand to them when things don't go his way. When his young flame Pashen is arrested for loitering with intent of prostitution, former prostitute turned social worker Cora spies her chance to befriend the young woman in an attempt to take down Willie and his corrupt nature.
Despite treating his women like objects, it's hard not to like Willie. He's got charisma by the bucket load and his outlandish dress sense makes him even more watchable as he struts down the street in his eye-catching pink number. Even the ordinary joes in the background seem entertained by him as you can plainly see random citizens, who happen to be passing, having a right good laugh at his colourful appearance. He screams stereotypical pimp and everything about this film is what you would expect from a tale about one, even if it is a bit caricaturish. However, the film as a whole seems as though it's trying too hard to be a Blaxploitation film and as a resukt feels more like an inferior homage. There's not enough badass attitude to really get the blood pumping, instead seemingly playing for laughs. Even a scene which involves a catfight isn't a patch on the ones starring Pam Grier. The fight hardly gets going and though there's quite an awful outcome for one individual, it's treated like a minor incident without much weight behind it.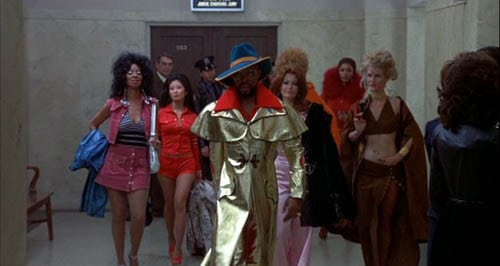 Every good pimp needs his girls and whilst Willie has many women by his side, most, like the other characters around Willie, are little more than one dimensional cut-outs that do very little other than stand there in revealing outfits. This leaves the film in desperate need of sass and fortunately we have a glimmer of it in Diana Sands as social worker Cora. She means business and vows to do right by the girls with her scenes opposite Willie really bringing some much-needed power to the screen. Unfortunately though, there's simply not enough of these scenes to turn Cora into a real character we can back. This is still Willie's show and Roscoe Orman (Gordon from Sesame Street) seems to have a ball playing the man in control, where women play second fiddle.
Despite its niggles, of which there are many, Willie Dynamite is still fun to watch, particularly with its tailor-made funky soundtrack complimenting the visuals. The film rarely takes itself too seriously though it does have its reflective moments where Willie realises the extent of his actions and dreams of making it big at the expense of his girls. In another film, these scenes could have been rather hard-hitting to watch but his flit from brassy pimp to remorseful son seem a little too shallow and unbelievable as he so easily trades one mask for another leaving the scenes more akin to a soap opera.
Willie Dynamite trades on the over-the-top style of the genre but ultimately is a watered-down version of the Blaxploitation greats of the era. Struggling to make a dent with its weak narrative and execution, this is one movie that edges towards the forgettable rather than the memorable. Black Dynamite, a spoof homage made 35 years later by martial arts star Michael Jai White, packs a much-more explosive Blaxploitation experience for film fans to enjoy and is one I recommend over Willie D.
Rating:
A crisp transfer from Arrow Video really brings out the colours of Willie Dynamite though there's not many extras to speak of with just the original theatrical trailer and Blaxploitation programme Kiss My Baad Asss, hosted by Ice-T and which once aired on Channel 4, included on the disc.
Save
Save