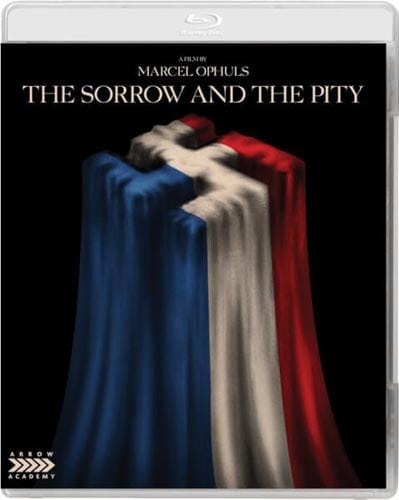 Arrow Academy are to release THE SORROW AND THE PITY on DVD and Blu-Ray on 5th June 2017.
Marcel Ophuls' four-and-a-half hour portrait of the French town of Clermont-Ferrand under German occupation from 1940-44 is one of the greatest documentaries ever made, as important as Claude Lanzmann's Shoah in its value not just as a film but as an essential historical record in its own right – not least since its interviewees are all long dead.
Describing the fall of France and the rise of the Resistance, with the aid of newly-shot interviews and eye-opening archive footage including newsreels and propaganda films, Ophuls painstakingly crafts a complex, nuanced picture of what really happened in France over this period. He also demolishes numerous self-serving national myths to such an extent that, although he made the film for French television, they wouldn't show it for over a decade.
But, as he demonstrates again and again, the overwhelming majority of French citizens during this period weren't heroes, villains or cowards, but simply ordinary people trying to make the best of an impossible situation. And it's Ophuls' portrayal of these people, their hopes, their fears and their appalling moral quandaries, that remains unmatched in film history.
SPECIAL EDITION CONTENTS
Blu-ray
High Definition Blu-ray (1080p) presentation, from materials supplied by Gaumont
Original French mono audio (uncompressed LPCM)
Optional English subtitles
Interview with director Marcel Ophuls, filmed in 2004
Le Nouveau Vendredi: The Sorrow and the Pity, a 55-minute debate that followed the film's belated 1981 French television premiere, in which Ophuls and historians Henri Amouroux and Alain Guérin discuss the film and the issues that it raises with an audience of students from Clermont-Ferrand
Reversible sleeve featuring new and original artworkFirst pressing only: Booklet featuring writing on the film by Pauline Kael and Jean-Pierre Melville, plus extensive historical context.
DVD
High Definition digital transfer, from materials supplied by Gaumont
Original French mono audio
Optional English subtitles
Interview with director Marcel Ophuls, filmed in 2004
Le Nouveau Vendredi: The Sorrow and the Pity, a 55-minute debate that followed the film's belated 1981 French television premiere, in which Ophuls and historians Henri Amouroux and Alain Guérin discuss the film and the issues that it raises with an audience of students from Clermont-Ferrand
Reversible sleeve featuring new and original artwork