For Your Eyes Only (1981)
Directed by: John Glen
Written by: Ian Fleming, Richard Maibaum
Starring: Carole Bouquet, Julian Glover, Roger Moore, Topol

UK
AVAILABLE ON BLU-RAY AND DVD
RUNNING TIME: 127 mins
REVIEWED BY: Dr Lenera, Official HCF Critic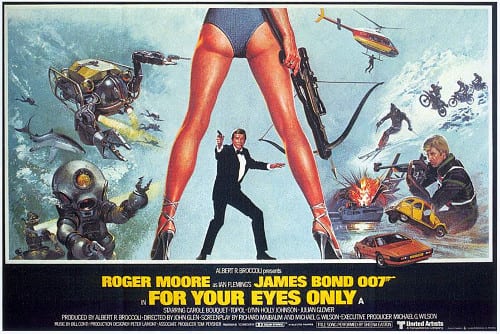 A ship carrying the Automatic Targeting Attack Communicator [ATAC, the system used by the Ministry of Defence to communicate with and co-ordinate the Royal Navy's fleet of Polaris submarines, is sunk after hitting a mine in the Ionian Sea. Meanwhile marine archaeologist Sir Timothy Havelock, who had been asked by the British to secretly locate the ship, is murdered with his wife by hitman Hector Gonzales. 007 is ordered by the Minister of Defence, Sir Frederick Gray and MI6 Chief of Staff, Bill Tanner, to retrieve the ATAC before the Soviets. He goes to Spain to find out who hired Gonzales, and encounters Timothy's vengeful daughter Melina, as well as informant Aristotle Kristatos, who says that a heroin smuggler called Milos Columbo who has links with the Sovies may be involved….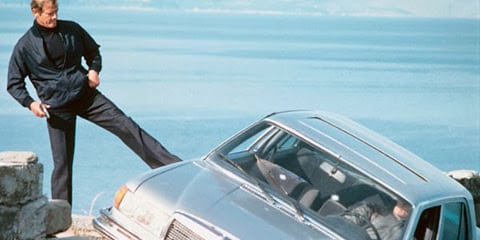 I'm almost enveloped by a veil of sadness as I begin commence reviewing the next film in the James Bond series, but at least it contains one of the late Roger Moore's best performances as 007. It wasn't a Bond movie I used to be that keen on, coming across as rather too drastic a reality check after the glorious nonsense of Moonraker, but tastes often change over the years, and the decidedly more mature For Your Eyes Only has risen quite considerably in my estimation the last two or three times I've seen it. The gadgets may be virtually gone, the silliness may be very muted, the elaborate sets replaced by strictly functional ones, even locale glamour downplayed with much of the film taking place in rural Meditteranean countryside, but the thrills are certainly present, and this Bond may have the best collection of stunts in the entire series. The storyline is actually a bit vague in places, but there's a serious attempt to return to an Ian Fleming feel and to keep things reasonably believable. The chief flaw is the so-called romantic relationship between Bond and his leading lady, which is unconvincing and in fact all but ignored, but at least the vengeful Melina Havelock is one of Roger's more memorable girls. And, though it's not emphasised, both the script and Moore have Bond seeming closer to the actual actor's age.
Though this was the first Bond film not to credit Fleming, it partly derives, including some character names, from two short stories: For Your Eyes Only, where Bond helps a woman avenge her parents in Jamaica, and Risico, where he investigates drug smuggling in Italy and finds that the leader of one racket is pushing all the blame onto another. Screenwriter Richard Maibaum used a bit of other unused Fleming material, such as the 'Identigraph' which comes from the novel Goldfinger. Moore was undecided about playing Bond for a while and Lewis Collins, Michael Billington, Michael Jayston and a certain Timothy Dalton all auditioned for the role before Moore agreed to return. Bernard Lee died before he could film his scenes as 'M', so the script was re-written so that the character is said to be on leave, letting Chief of Staff Bill Tanner act as head of MI6 and briefing Bond alongside the Minister of Defence. Corfu doubled for Spain, while Cortina D'Ampezzo in Italy, and Metéora and the Achilleion in Greece were also used, plus the Bahamas for the underwater scenes and Beckton Gas Works in London for the opening scene. The monks of Metéora's Monastery of the Holy Trinity objected to the film and tried to sabotage production as much as possible, hanging their washing out of windows, covering the monastery with bunting and flags to spoil the shots, and placing oil drums to prevent the crew from landing helicopters. On the final day of filming the bobsleigh chase, stuntman Paolo Rigon was killed when he became trapped under the bob. While not quite as huge a hit as Moonraker, For Your Eyes Only still scored big and beat Raiders Of The Lost Ark at the UK box office.
A rather poignant little opening with Bond at Tracy's grave [in London – where she never visited!] leads to a pre-credit action scene which is tonally a bit at odds with the rest of the film. Bond is trapped in a helicopter controlled by a bald, cat stroking, wheelchair bound, neck-brace wearing villain voiced by good old Robert Rietty again who suspiciously resembles Telly Savalas's Blofeld, though we don't see his face. In fact, a line that actually made it clear that it was Blofeld was removed because of Eon possibly not having the rights to the character at the time. There's impressive stuntwork followed by Blofeld [oh, sorry] crying: "I'll buy you a delicatessen, in stainless steel" as he's killed, which is just plain weird. The titles, singer Sheena Easton surrounded by bubbles and fish, are dull despite Easton clearly being naked, but the song is truly lovely both in terms of tune and words, if a tad un-Bondian. We then see The St Georges being sunk and Melina's parents being shot by a helicopter, before Bond is sent on his mission, first to Spain, and we soon get a fab car chase through the countryside. The new attitude shown to gadgetry is amusingly shown when Bond's Lotus blows itself up to foil a burglar, and 007 has to rely on Melina's more humble but incredibly durable Citroën 2CV.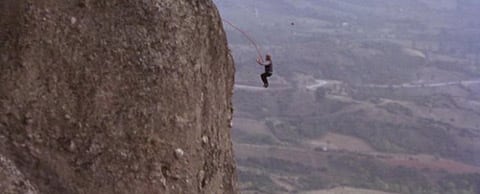 The quick pace of Moonraker is certainly maintained, with little time spent hanging around before Bond is off to the next Mediteranean location. Bond has an M16 contact in Cortina but he's killed off almost immediately, and Bond even turns down an offer of sex from the probably underage Bibi Dahl [check the name], an aspiring ice skater sponsored by Kristatos. Moore's 007 would have probably jumped at the chance previously, and Connery's would have been in there before you know it. Action is almost constant: a traditional gun fight in a warehouse which is one of several times this film is highly reminiscent of From Russia With Love, on snow and ice with amazing ski jumps over houses, underwater where an encounter with a villain in a monster-like underwater suit begins like a scene from a horror movie, while a thrilling keel hauling bit is pinched from the Live And Let Die novel, and up a cliff side where a villain trying to dispatch the climbing 007 is one of Moore's tensest moments and probably the only thrill moment where the back projection isn't too bad. Frankly it's downright awful elsewhere and does frequently let the side down badly. The final scenes are a little lame too – we expect more from a confrontation between two old arch enemies than a few seconds of chasing and grabbing – though the story's conclusion – Bond throwing the ATAK off the mountain so neither East nor West has it, is a neat bit of closure, certainly neat enough for the climactic gag of Margaret Thatcher talking to a parrot whom she thinks is Bond, not to grate too much. It's funny, but a bit too much for this particular film.
Tonally For Your Eyes Only does get it right most of the time, and Moore still gets a few quips in, though only exchange [Bond: "Father, forgive me for I have sinned", 'Q': "That's putting it mildy"] is really memorable. And it's nice to have a plot where the villain turns out not to be the person you expect, although I still can't understand why Kristatos seems to need Bond to get the ATAK for him but has been previously trying to kill him off. Bond's brief dalliance with the Countess Lisl [played by Pierce Brosnan's first wife Cassandra Harris] Columbo's mistress, sees Moore's Bond as smooth as ever, and ends with the quite shocking sight of a car hitting her body, one of several moments indicating that first time director [though very experienced second unit director] John Glen has a slightly more realistic approach to violence than his immediate predecessor Lewis Gilbert, though overall it's all very 'PG-friendly and stylistically he doesn't depart from the norm. But the Bond/Melina relationship never takes off and the usually good Carole Bouquet is a bit stiff. Bond keeps running into her and they become allies, but there's not even a hint of a romantic or physical attraction until the final scene where they're suddenly becoming lovers because it's what is expected in a Bond movie.
Though my favourite Moore 007 performance is in The Man With The Golden Gun, For Your Eyes Only, being a better film, is probably a better showcase for demonstrating how good a Bond he was. He maintains his wit and his charm but is clearly a more mature character and even compels in the moment [which Moore didn't want to do] where he callously kills the murderous Locque, whose car is teetering over the edge of a cliff. Considering how often he takes revenge, it's odd how Bond tries to discourage Melina from doing the same. Moore only remains a bit unconvincing in the limited fight scenes, such as a fight with a Red Grant substitute in the monastery. Julian Glover is a nicely restrained but convincingly cold Kristatos, while Topol is just Topol. Bill Conti's score has some in for much criticism, particularly for the disco flavoured action tracks in the first half, though I think they're fine – in fact it's a shame that the rousing main ski chase theme isn't used elsewhere. Nobody does it like John Barry but his way isn't the only way. The underwater horror suspense music is thrilling and there's a lovely flugelhorn-led tune during the Bond/Lisl encounter. On the other hand there's also a dreadfully vulgar sex song called Feel It played during a swimming pool scene, and sometimes Conti overdoes the melodrama. Overall though it's a rich and diverse score and it's a shame he didn't do more Bonds. And it's a shame that For Your Eyes Only [6.8 at the IMDB, really?!] hasn't really received its due as a Bond film which does its very best to give you most [of not quite all] of the tried and tested elements while attempting to do what two or three other Bond films get all the praise for doing.
Rating: