The Green Green Grass of Home (1982)
Directed by: Hou Hsiao-Hsien
Written by: Hou Hsiao-Hsien
Starring: Jing-Kuo Yen, Kenny Bee, Ling Chiang, Meifeng Chen

AKA ZAI NA HE PAN QING CAO QING
Taiwan
AVAILABLE ON BLU-RAY: NOW, in the EARLY HOU HSIAO-HSIEN: THREE FILMS 1980-1983 Boxset from Eureka Entertainment
RUNNING TIME: 90 mins
REVIEWED BY: Dr Lenera, Official HCF Critic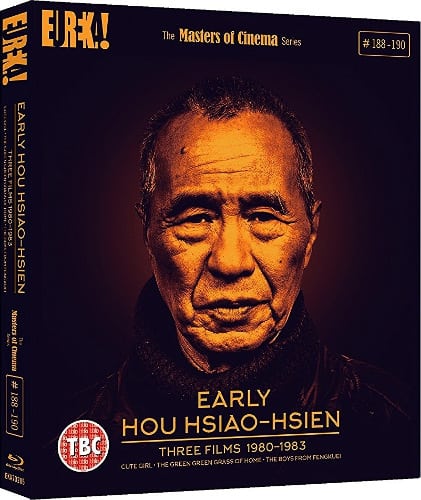 In the countryside village of Neiwan, one of the teachers is leaving due to her husband getting a job in Indonesia, but her brother Da-Nian arrives from Taipei to take her place. Amongst the students in his class are the naughty "three musketeers" Yen Cheng-Kuo, Huang Chin-Shiu and Lin When-Jin, and the sad, quiet Tsing-Wang whose parents are divorced. Da-Nian and fellow teacher Su-Yuh quickly become attracted to each other, but Da-Nian also needs to find out who's fishing in the local stream with an electric stunner and therefore poisoning the fish….
This second film in the Eureka Entertainment boxset was Hou Hsiao-hsien's third feature, the director also having made Cheerful Wind in between Cute Girl and The Green, Green Grass of Home. Pop star Kenny Bee starred in all three, this one featuring less pop video-type montages than the first though it does have Bee perform a number on screen which opens with the words: "Have another sip of your cola, I'll clasp tightly your hand". Sadly Tom Jones is nowhere to be heard or seen. The – well – cutesiness – of Cute Girl is present throughout this film too so cynics beware – these movies were obviously aimed at a teenage audience – but it's sometimes offset by a naturalism that shows Hou clearly finding out what he's really interested in. In particular, many of the scenes involving the children are very believable with some really impressive acting from some of the very young cast members, Hou obviously being one of those filmmakers who's able to coax fine performances from children that look almost effortless. The film's combining of what it's like to be a young child in a small Taiwanese village with sugary romance and blunt environmentalism results in something that doesn't really hang together, but there are moments of real poignancy amongst all the sweetness, and it's a nice, if slight, watch overall.
Bee again plays a character who travels from the city to the countryside and falls in love with both a girl there and his new location, Hou clearly being someone who's heart lies with calm rural villages, not big, bustling cities. Almost as soon as he arrives, Da-Nian does a really bizarre dance on the empty stage of the theatre where he has to live, and one wonders why Su-Yuh takes such a shine to him. She has a rival for Da-Nian's affections, the local "butcher shop beauty" who's a bit more "forward" than Da-Nian and who writes him a letter asking him out, though the rather awkwardly and even slightly insultingly written character, clearly intended as someone to mock, isn't on screen very often. Then again, Su-Yuh is given short shrift as well; she appears quite often but rarely actually speaks and is often reduced to gazing at Da-Nian adoringly. The film could have actually done with a couple more scenes involving our couple together [and not with a sappy song drowning out any dialogue] so we get a proper sense of them falling in love. Instead, they seem to do so simply because the conventions of this type of movie require them to, and Bee and Meifeng Chen don't really possess much of that all-important chemistry, while the fish out of water Da-Nian sometimes seems as childish as the kids in the film. Bee even gives him a rather comical walk which is undeniably amusing to watch but which restricts the viewer's ability to take this person seriously.
For much of the time, the focus is on the kids, and the film really shines when it's doing thing like just watching "the three musketeers" playing. The three child performers, who don't seem to be specifically identified in cast listings, were not professionals but that can sometimes be a good thing: they really are very good together and are able to delineate their character's major characteristics without it seeming forced. The one we get to know best out of the three is Yen, who begins to develop a major crush on his visiting cousin, his feelings evoked best during a rather lovely little moment when he imagines her in a wedding dress getting married to him. While this film isn't as comedic as Cute Girl, there's still some humour that reaches very low indeed in an odd little section where Da-Nian asks his pupils to each put some of their poo in a container and bring it in to class the next day to check for tapeworms. The way it's handled I wasn't initially sure that I was intended to laugh, though I ended up almost doing so anyway. The laughs seem far more ones that only Taiwanese viewers would really understand and/or find funny, me not being entirely sure that I picked up everything in this film that was intended to cause laughter.
A more serious tone is gradually brought into the story when Da-Nian espies someone using electricity to catch fish and therefore poison the flora and fauna that live in a nearby stream. The idea of violence being something that catches is nicely shown by having Da-Nian get into a fight with the man, use his bandages the next morning to show to his class how violence is bad – after which three of the kids then get into a fight! But the main theme is protecting the environment, and it's an ever-important theme, but – well – I dunno – I guess that I'm so used to current Hollywood offerings preaching to me in an often downright hypocritical fashion about the same things over and over again that I can't help but get irritated when it occurs elsewhere even if the writers and directors clearly believe in what they're saying. It's hard [unless you really are ignorant] to disagree with what Hou is telling us, but his film winds up feeling a bit like an after-school special what with all the platitudes, despite the finale's use of a school play nicely melding its adult and child concerns together. Of course I'm sure that many really fervent environmentalists will not see that as a bad thing at all and may even feel that even more needs to be said in movies, though for me it probably depends more on how much you like being preached to – if indeed at all.
At times The Green, Green Grass of Home seems rather hastily constructed, while on other occasions a lot of thought has been put in – take for example the almost identical, yet symbolically slightly different, opening and closing moments of kids running alongside a train. Also very impressive is the way the person responsible for poisoning the fish is eventually portrayed; he's actually a very sympathetic character trying to support himself and his son, and the development of his part of the story ends up providing the film with some of its most touching moments. There are less deliberate shots of beauty than in Cute Girl, but there are some nice long takes when the camera stays with characters as they move from one place to another no matter what's sometimes in-between the characters and the camera. On other occasions we observe action through windows, or are invited to look upon somebody in the distance on one side of the screen with cinematographer Kun-Hou Chen providing some deep focus photography.
As with Cute Girl, Hou also disowned this movie, but that seems rather harsh. It's undeniably a bit saccharine at times and restricted by the confines of having to be a teen-aimed vehicle for a heart throb pop singer, but there's also some stuff that's beautifully observed and may ring rather true if you remember your childhood even if you never grew up in a rural Chinese village. The Green, Green Grass of Home, probably not at all a major work in Hou's resume, may still leave you feeling quite relaxed and happy if you let it.
Rating:
The odd shot of poorly managed grain aside, The Green, Green Grass of Home gets a nice filmic transfer on Blu-ray. The scenes in and around the stream look especially nice with lots of detail. As with the other two films in the set, it get a video essay, but it's housed on disc 2 with The Boys From Fengkuie, so my comments on it can be read with my review of that film.
DETAILS
*Limited Edition O-Card (First print run only)
*1080p presentations of all three films, across two Blu-ray discs
*Uncompressed LPCM audio on all three films
*Optional English subtitles
*Video essays on all three films by Adrian Martin and Cristina Álvarez López
*A collector's booklet featuring a new essay by Philip Kemp