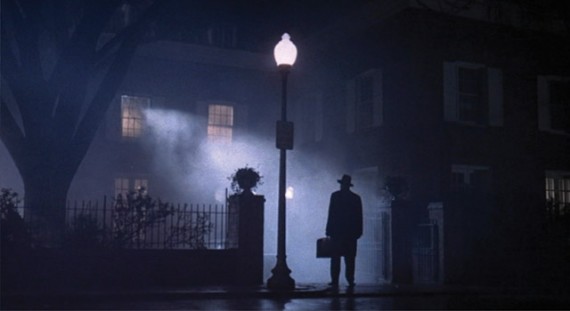 It's hard to make a horror movie that doesn't rely on either sudden jump scares or huge amounts of gore to shock its audience. That might be why it takes a really special one to get better than average reviews from film critics. Take 'Carrie' for example; it has some fantastic scenes, but the general mood of the film shifts around like it can't decide what it wants to be. 'Hellraiser' is packed with good scares, but there's so much gore it becomes uncomfortable to watch for mainstream viewers.
Some films try to take a different approach. 'Poltergeist' tries to go for the subtly disturbing and the psychologically creepy, but in places it's so far fetched that it's hard to take it seriously. The best horror movies have to be very careful with all of these elements; the tone, the concept, the level of gore and the presentation; in order to end up with a truly chilling product. Here are ten that we think pass the test.
The Exorcist: Dir. William Friedkin (1973) – When a film is genuinely so terrifying that they banned it from being shown in the UK for over twenty years, you know it has to be one of the best horror movies. Ellen Burstyn takes on the role of a mother who despairs over the increasingly strange behavior of her little girl. She's initially reluctant to admit that the supernatural might be at play, but as things become more sinister she finally relents, and hires an exorcist. The title music from the film, 'Tubular Bells' by Mike Oldfield, wasn't written especially for the movie, but even now it's impossible to hear it without feeling a chill run down your spine.
The Blair Witch Project: Dir. Daniel Myrick, Eduardo Sanchez (1999) – This was the movie that proved that you don't need a multi million dollar budget to scare an audience. 'The Blair Witch Project' is basic and bold. It popularized the idea of 'found footage' movies, with a plot centered around the video recordings left behind by three students who vanish in the woods whilst looking into an urban legend. With much of the film shot from a first person perspective, it puts us in the shoes of the characters, experiencing their fear and their shock as they encounter nightmarish things in the dark.
Pitch Black: Dir. David Twohy (2000) – At face value, 'Pitch Black' is a science fiction film. It takes place on spaceships and faraway planets, in a place where there are two suns in the sky. All of that is actually just scene-setting, though. This movie is actually about one of humanity's most common and primal fears; what hides in the dark. Vin Diesel stars as the only character who has night vision in a world where the sun never sets, and yet the dark is about to descend on one abandoned station.
Donnie Darko: Dir. Richard Kelly (2001) – If the goal of 'Donnie Darko' is to confuse and disturb, it succeeds. We have a plot involving time travel, a terrifying rabbit with a twisted steel face, and a central character who may or may not be losing his mind. This is arguably the film that made a star out of Jake Gyllenhaal, who's perfect in the role of a vexed adolescent who's facing deep questions about love, life and destiny. Everything comes to a crescendo on the night before Halloween, where he's forced into making a decision that will impact him and everyone he knows forever.
The Others: Dir. Alejandro Amenabar (2001) – Nicole Kidman is cast perfectly in this movie, taking on the role of a lonely mother who retreats to the English countryside with her two children to avoid the falling bombs of World War II. This is all about her wait for her husband to come home from the front line, and the strain of worrying about him on her mind. Is the house haunted, or are the phantoms merely expressions of grief and fear inside her mind? This is a movie that will tug on your heart at the same time that it's shredding your nerves.
Happy Death Day: Dir. Christopher Landon (2017) – You're less likely to have heard of this one than most of the other entries on this list. If you haven't, try to re-imagine 'Groundhog Day' as a slasher picture. Yes, we know that sounds weird, but stay with us. The central concept is that a woman lives the final day of her life over and over, dying repeatedly and unpleasantly, until she can work out what's happening and why. Jessica Rothe is outstanding in the lead role.
Annabelle: Creation: Dir. David F. Sandberg (2017) – It's not very often that a prequel or a sequel outperforms the original in terms of drama or content, but 'Annabelle: Creation' manages to pull it off. There's an almost eerie sense of calm to this movie, which deals with the birth of the demonic titular doll, and the deranged mind who put her together in the first place. There are plenty of little pieces of unpleasantness in this film to keep an audience on its toes.
Cult of Chucky: Dir. Don Mancini (2017) – Some thirty years after we were first introduced to Chucky, everybody's favorite murderous doll is still capable of scaring the pants off us on the big screen. This time, Chucky's been let loose in a place where people are supposed to be safe, recovering and healing from traumas and psychological disturbances. It's every bit as gory and unrelenting as you'd expect it to be. Chucky has now had a cult and a curse named in his honor in recent years. It makes you wonder what's next for him.
Insidious: The Last Key: Dir. Adam Robitel (2018) – Not every horror movie has the power to give its audience an authentic thrill, but the 'Insidious' franchise is still managing to do it even though this is the third sequel to the original. There's no barrier to entry if you haven't seen the previous three; a frightening flashback tells you everything you need to know, and then we're on with the new story. It might not be complicated, but it's as scary as ghost stories get.
Winchester: Dir. Michael and Peter Spierig (2018) – The idea of putting someone who doesn't believe in ghosts inside a haunted house isn't new. You've probably seen it before. You almost certainly haven't seen it done this well, though. The house is genuinely unsettling and creepy, and despite the basic premise, the plot is imaginative. This is one horror film we can confidently say will surprise you with its twists and turns. Don't take anything for granted when you're watching!
Big horror movies make big money, and inspire devoted followings. Horror has such a big fan base that it's created a demand for horror movie themed online slot games, where you can win money playing with or against a background of vampires, werewolves, zombies and all the rest. Some of the best known titles in the range are Bloodsuckers, Lost Vegas and the spookily haunting Wolf Gold. It's sometimes easier and cheaper to make a horror film than it is to make a major league Hollywood blockbuster, so studios will keep on making them. There have been a run of great ones in recent years,and long may the trend for quality continue.