Elvira: Mistress of the Dark (1988)
Directed by: James Signorelli
Written by: Cassandra Peterson, John Paragon, Sam Egan
Starring: Cassandra Peterson, Daniel Greene, Edie McClurg, Ellen Dunning, Frank Collison, Ira Heiden, Jeff Conaway, Kris Kamm, Susan Kellermann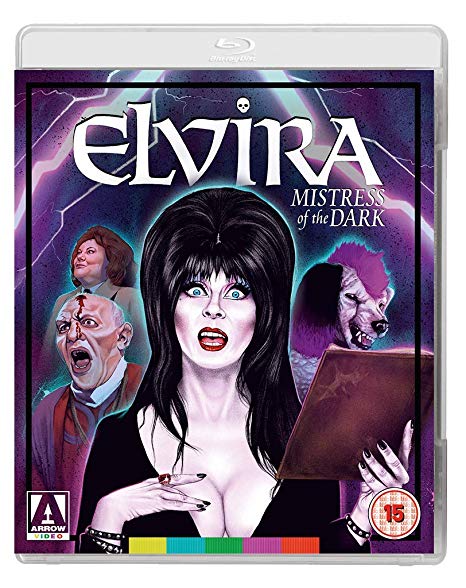 ELVIRA: MISTRESS OF THE DARK (1988)
Directed by James Signorelli
After leaving her job at the TV station, now run by a slimy Texan cowboy, Elvira looks forward to a career at The Flamingo hotel in Las Vegas where she'll truly put her name on the map. Unfortunately, Vegas won't have her unless she stumps up some of the money to support her show run – a whopping $50,000! The reveal of this compulsory cash injection coincides with the news that her great aunt Morganna has passed away and Elvira has been requested to be at the reading of the will. Could great aunt Morganna be the lifeline she needs to get out of this dump and finally have her name in lights?
After rolling into her aunt's conservative little town of Fallwell, Elvira's presence rubs many of the local residents up the wrong way. Her heaving bosom, gothic tastes and wildchild personality is the exact opposite to the strict traditions and values they hold dear. Elvira doesn't care about them though; all Elvira wants is that sweet, sweet money… but instead all she finds herself with is a spooky-looking, dilapidated house, a recipe book and a poodle named Algonquin. Her great uncle Vinny, who inherited nada from his sister, expresses interest in purchasing the recipe book from Elvira but her newly inherited dog has other ideas.
What does Vinny truly want with the recipe book and will Elvira ever make enough money to realise her dreams in Vegas?
ELVIRA: MISTRESS OF THE DARK is Elvira's big break onto the silver screen, where we finally get to find out a bit more about the sexy vamp-like host outside of her witty B-movie commentaries on Movie Macabre. Pitting her rock-lovin, cleavage revealing, California-infused, fun-filled persona against a town that is so reserved and conservative is a genius idea, especially when the town's full of teen boys who've never laid eyes on a buxom figure outside of pointy-brassiered Patty who works at the bowling alley. The residents of Fallwell, Massachusetts appear to be a modern throwback to the 1950's, akin to the townsfolk that Marty McFly travels back in time to in Back To The Future. It's clear they've never seen as much flesh on display in their entire lives. It's no wonder the teenage boys are ever so eager to help out the new arrival in town. This contrast between the townsfolk and Elvira sets up the environment for our titular character to run free and cause her own brand of mischief in getting those around her to let loose, all whilst trying to secure her funds for her big Vegas dreams.
Cassandra Peterson's camp jokes and teenage attitude as her character Elvira make her a likeable personality to face off against her great uncle Vinny, played by a delightfully wicked William Morgan Sheppard, who seems to have sinister intentions. It's just as well that great aunt Morganna's pet poodle, Algonquin, has Elvira's back against her wicked uncle, and although they say never work with animals,  Gonk, as Elvira rechristens him, always outshines everyone he's in a scene with. How many dogs do you know can hide a book under a cushion and pull down the covers over the top, never mind being groomed and remodelled into a gothic punk poodle complete with mohawk?  Mine runs off if I even try to get his coat on him.
In terms of storyline, ELVIRA: MISTRESS OF THE DARK plays it very simple with enough variety of characters to even out the playing field. You've got Elvira, her love interest Bob and the teenagers of Fallwell versus wicked Vinny and the pompous, virtuous adults of the town. A playful back and forth between the two factions makes this movie a little too cheeky to be a 12 but friendly enough to warrant a 15 certificate. It's not scary in the slightest and almost feels like a TV movie in its presentation however it achieves what it sets out to do with some laughs along the way. Elvira is without a doubt the pulling power here, providing the wise-cracks, innuendo and bosom-busting antics you'd expect for a film centred around Cassandra Peterson's persona. Without her, the film is very middle of the road but fans looking for a few giggles packed into an easy-to-enjoy teen movie won't be disappointed.
Rating:
The Arrow Video release comes packed with a revised feature length documentary, entitled Too Macabre, which interviews Cassandra Peterson and the stars and cast of the film; a featurette on the SFX of Elvira's "casserole" pot-monster; theatrical and teaser trailers; storyboards and commentaries with the director, Peterson and the writers.