We're almost half-way into December, and, let me guess… you've still got presents to buy.
Well, don't fear. Our HCF Christmas Gift Guide for 2018 is here to help you find that awesome gift for the nerd in your life… or for a cheeky festive treat for yourself!
Harry Potter Sorting Hat
Available from IWOOT
If you're a Potter fan, then you'll have no doubt asked yourself the question: "which house do I belong to?". Well, wonder no more. Get your hands on a TALKING sorting hat with animated mouth that you can actually shove on your head and recreate the scene from. Now you'll know for sure which house you belong to. The sorting hat knows deez tings.
Arrow Video Blu-Rays
If you're a fan of cult movies, then you're sure to have heard of Arrow Video. You might even have some of their incredible Blu-Ray releases on your shelf. With 30% off selected Arrow titles from Zavvi, there's no better time to pick up some titles you may have missed out on.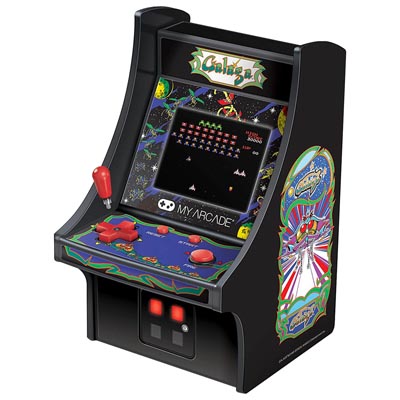 MyArcade Micro Player
Available at IWOOT
If you're like me and you struggle to tear yourself away from the arcades anytime you visit the seaside or the local bowling alley, then having your very own micro arcade machine might be just the answer. These 6 inch arcade machines come with a little joystick and buttons and are available in a variety of classic games including Galaga, Pac-Man, Galaxian, Dig Dug and many more. Powered by either 4x AA batteries or a micro USB cable, neither of which are supplied, these cute, fully playable micro arcade machines from MyArcade are a great novelty distraction for the office or your home desk.
Bill and Ted Most Excellent Colouring Book
Available from Firebox
Who doesn't love colouring stuff in. Am I right? It was fun as a kid and there's something quite therapeutic about it now as an adult. And I can't think of anything cooler to get my crayons out over than the awesome Wyld Stallyns in this Bill and Ted colouring book.
Chucky Welcome Mat
Available from Zavvi
What better way to greet visitors to your home with a welcome mat that has the remnants of a Good Guy doll gone bad having run his bloody footprints all over it. Just make sure to tell your visitors to close the gate as they run out.
The Movie Misquote Game
Available from Firebox
Have you ever heard of or played the game Cards Against Humanity? Imagine that but with movie quotes and you have The Movie Misquote Game. You're presented with a statement card with a word missing (a blank) so in the case of Movie Misquote game, a movie quote with the key word missing. The rest of the players choose, from their hand, the funniest or most absurd quote card in their hand that would fit beautifully in that blank space. A movie buff's twist on the popular game that will surely get a few giggles over the festive period.
10 Mystery Geek T-Shirts For £20
Available from Zavvi
Christmas is the time for buying clothes for loved ones and what us nerds love to dress in most are themed t-shirts that nod to our favourite TV shows, games or movies. Zavvi have an incredible deal on at the moment offering 10 mystery t-shirts in the size of your choosing for £19.99 – that's £2 a t-shirt! Everyone needs to wear clothes, unless you're a streaker, and with this bargain buy you can practically fill out their wardrobe!
Where's The Dude?
Available from Firebox
Jeff Lebowski, aka The Dude, has decided to infiltrate the overcrowded pages (looking for a new rug, maybe?) and it's up to you to find him in this "Where's Wally?" (Where's Waldo)  spoof book.
Alien Ovomorph Egg Cookie Jar
Available from Zavvi
COOKIES! The biscuit barrel or cookie jar has always been a firm kitchen staple but if you really want to make sure nobody pinches one of your bourbons or digestives when you're not looking, then this cookie jar shaped like a Xenomorph egg from Alien should keep the pesky biccie thieves at bay.
Crash Bandicoot Collectable Big Box
Available from Zavvi
If you're a fan of the Playstation classic Crash Bandicoot, then this brilliant Crash themed loot crate is well worth checking out. Containing a snapback cap, messenger bag, keyring, pint glass, wallet and lanyard, this is a wonderful gift set for any fan. If Crash Bandicoot isn't your thing, check out the Spyro the Dragon Big Box.