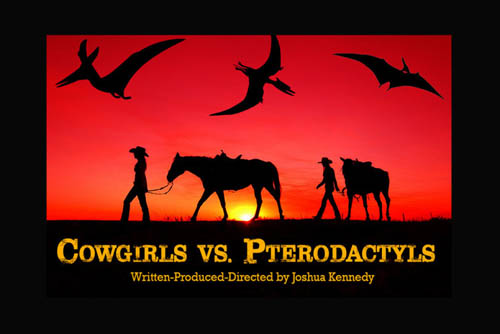 If you're like me, you'll love the premise of stop-motion Western-adventure movie COWGIRLS VS PTERODACTYLS that is currently looking for funding on crowdfunding platform Indiegogo.
Directed and written by Joshua Kennedy(House Of Gorgon), with stop-motion fx by master Ryan Lengyel, COWGIRLS VS PTERODACTYLS promises Kickass cowgirls fighting stop-motion monsters in the spirit of Ray Harryhausen's adventure films – what's not to love?
The year is 1888 and an enormous prehistoric pterodactyl has been preying upon a small Texas desert town. When her husband is eventually taken by the creature, rebellious schoolteacher Rebecca Crawford decides to take matters into her own hands. She enlists the help of local brothel keeper Debbie Dukes Riley Masterson III and down-on-her-luck sharpshooter Bunny Parker to help track the monster down before it lays more of its dastardly eggs.
With a variety of perks on offer, from a copy of the film at $25 to $3000 executive producer rights, there's plenty to get involved with. Check out the Indiegogo campaign now!