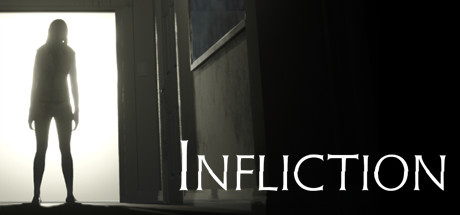 Infliction
Developed and Published by Caustic Reality
Available on Steam
INFLICTION casts you as husband Gary Pout of Pleasant Falls who's on the hunt for plane tickets in the house that his wife Sarah has forgotten. With Sarah stuck at the boarding gate, you need to find the tickets in the house so she can catch her flight. Wandering around the dark home, you get a feeling for what the Pout family are like. They have a teenage daughter called Maggie and from what it seems, everything in the Pout household is hunky-dory. That is until you find those plane tickets and come to the sudden realisation that life is far from it!
It seems that the house has been occupied by a malevolent spirit that intends to do harm to you. Providing jump scares aplenty, the otherworldly presence makes itself known as you navigate the home looking for clues as to who, what and why this evil is in your home. You'll find yourself bumping into the spirit on more than one occasion, that will surely make you squeal as you attempt to run away as fast as you can. Strange noises and flickering of lights certainly don't help the situation as you try and figure out what the hell is going on.
As time progresses throughout the game, you begin to find out more about the Pout family and maybe why the house is being haunted as it is. The game is not afraid of putting the player face to face with issues like domestic abuse, grief, addiction and depression, demonstrating that not all horror within INFLICTION is personified by its J-horror-inspired spirit.
A slow burning horror that relies on noises in the dark and visual scares, combined with the urge to know more about the brutal story that unfolds, will keep players on the edge of their seat, even if you do find yourself succumbing to the spirit over and over again like some groundhog day nightmare. However, unlike some games where you'll lose your progress, after you reawaken from being stomped on by a screeching spirit, you'll be able to continue your quest for answers with new opportunities popping up and memories revealed.
As an exploration point and click game, INFLICTION needs to keep the gamer hooked and it does so remarkably well with its intriguing backstory and the threat of the ghost that haunts the home. Though there are ways to avoid being attacked by the ghost, such as flicking on lights, hiding behind furniture and taking a photo of her with the camera, it would be more effective if you could shine your torch that bit brighter, a la Alan Wake, to keep the malevolent spirit at bay. Nevertheless, the constant threat of the spirit keeps players on their toes whilst exploring the rich environment which has an incredible level of detail in things you can pick up, of which there are many. Whilst most story-driven items flash to get your attention, there's a vast amount of items that can be picked up and inspected just for novelty value. Some developers could have took the easy route and made generic, bland designs for these items but Caustic Reality have created individual designs for each item that are either wholly original or a nod to an existing item in the real world, such as the beer cans and the horror VHS tapes. The depth of detail really makes the game that more realistic as though this is an actual, lived-in world which the player is exploring. Even things such as letters, cards and diaries with handwritten notes and doodles help to bridge the gap between videogame fiction and reality. This only serves to amplify the scares which are sprung upon the player throughout the game.
Although a short game at around 2.5 to 5 hours, depending on your skill level, INFLICTION manages to ensnare you into its nightmarish world and expose you to dark horrors that aren't just prevalent in the virtual world, but in the real world as well.
Rating: