Under The Tree, Undir Trénu (2017)
Directed by: Hafsteinn Gunnar Sigurðsson
Written by: Hafsteinn Gunnar Sigurðsson, Huldar Breiðfjörð
Starring: Dóra Jóhannsdóttir, Edda Björgvinsdóttir, Lára Jóhanna Jónsdóttir, Selma Björnsdóttir, Sigrídur Sigurpálsdóttir Scheving, Sigurður Sigurjónsson, Steinþór Hróar Steinþórsson, Þorsteinn Bachmann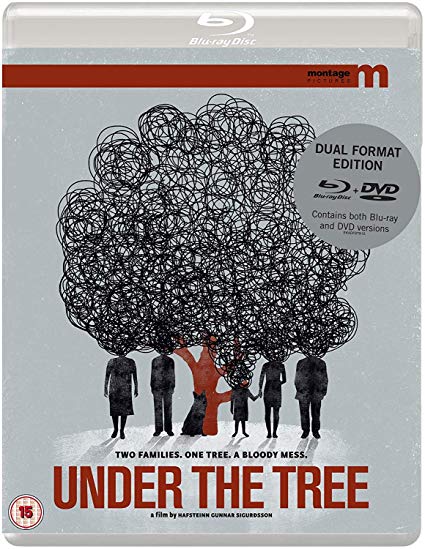 UNDER THE TREE (2017)
Directed by Hafsteinn Gunnar Sigurðsson
Icelandic Language with English Subtitles
Atli is thrown out of his home when partner Agnes finds him about to masturbate to porn he's watching on his laptop. It's not just any old porn though – it's a sex tape of him and a woman named Rakel. With nowhere else to go, he returns to his parent's house where his mother Inga seems to be having a dispute with the next door neighbours who've asked them if they can prune their tree as it's blocking the sun from shining on their patio. Whilst Atli fights to save his relationship and gain custody of their daughter Asa, the quarrel between his parents and their neighbours snowballs with deadly consequences.
Set in the vicinity of Reykjavik, UNDER THE TREE is a dark take on the lives, relationships and conflict that goes on in people's everyday lives. Hiring a cast of comedic actors, director Hafsteinn Gunnar Sigurðsson successfully blends the drama with a healthy dose of black humour with the titular tree appearing to be the centre of many of the problems that ensue.
The film itself is split into three threads: Atli and his relationship problems; the dispute between the neighbours; and the lasting grief of Atli's missing brother. The disappearance and suspected suicide of Atli's older brother could be seen as the turning point in all their lives as it's clear that Atli's mother Inga has not got over the loss of her eldest son. Her pent up grief manifests itself as anger at neighbours Konrad and Eybjorg as she feels that their request to chop her tree which is overshadowing their garden is one more thing being taken from her. Her sizzling pot of emotions and accusatory finger pointing sets off a chain of tit-for-tat reactions between herself and her neighbours, from poo-bag slinging to car tyre slashing, with each reaction becoming more and more sinister.
Atli's problems are much more grounded in the reality as he attempts to patch things up with his partner Agnes who suspects him of cheating after spotting his sex tape. His failed attempts at getting her to listen or engage in conversation results in him whisking his daughter Asa out of kindergarten for an afternoon camping on the grass at Ikea, of all places! His desperate attempts to have contact with Asa, at least, only serves to get him in more hot water and whilst he's having to manage the breakdown of his family he also has to contend with the emotional breakdown of his own parents. To put it lightly, Atli isn't having the best of times!
Wonderfully shot and written, with just enough wit to keep it from tipping into depressing territory, UNDER THE TREE is like a light shone onto all our trivial failings and how life can be easily blown out of proportion if we let it. The humour featured in the film is incredibly black with some really dark scenes which could easily feature in a horror movie, particularly towards the end of film. In many ways, this cautionary tale will drain you but its twisted sense of humour, poking fun at these characters and the dastardly things they do, will relieve and allow you to enjoy it as a work of fiction, even if it casts shades of a bleak reality that could easily be our own.
A wickedly, deliciously dark slice of suburban Icelandic drama.
Rating: