Robocop (1987)
Directed by: Paul Verhoeven
Written by: Edward Neumeier, Michael Miner
Starring: Dan O'Herlihy, Felton Perry, Kurtwood Smith, Miguel Ferrer, Nancy Allen, Paul McCrane, Peter Weller, Ray Wise, Robert DoQui, Ronny Cox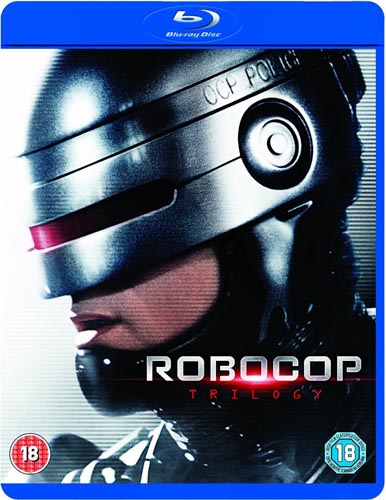 RoboCop (1987)
Directed by Paul Verhoeven
RoboCop Trilogy is available on Blu-Ray
Check out more action movies for Father's Day.
Officer Alex Murphy is transferred to a struggling Detroit police station in an area that is swamped with criminality and where a worryingly number of police offers are being murdered by a notorious gang led by Clarence Boddicker. On his first day on the job with his partner Lewis, they fall foul of Boddicker's gang who injure Lewis and almost obliterate Murphy. With a body riddled with bullets and an arm blown off, Murphy's rushed into the care of Omni Consumer Products, a security tech firm who are the newly appointed providers for the Detroit district. Keeping him alive, they harness their technology with his biology and turn him into RoboCop – a cyborg programmed to patrol the streets, arrest criminals and keep the lawless city safe. With his armoured body, lightening quick reflexes and absolute accuracy, RoboCop is the super soldier the force so desperately needs.
With RoboCop programmed to generally patrol the city, Omni Consumer Products are disturbed when the cyborg suddenly goes off script. Recounting memories of his former life, he decides to take justice against the men who killed his human self, which leads him to a worrying truth that will see him fight for his own and the city's survival.
Sci-fi action-flick RoboCop was one of many incredible science-fiction movies released in the 80's and though it may not be spoke of in the same sentences as The Terminator nowadays, it still has a huge fanbase, so much so that they decided to remake it in 2014
I remember watching RoboCop as a kid and being memorised by the concept and action of RoboCop. As an adult, I've enjoyed it on a far greater level, from the skilful directing of the incredible Paul Verhoeven to the moral and heart it presents throughout the movie when dealing with big corporations such as Omni Consumer Products. Nearly all the major sci-fi franchises have a big bad company at the helm and RoboCop is no different with OCP being filled to the brim with egotistical, power-hungry individuals just looking for one more method of control over the population.
Has it aged? Only a little. The most notable thing being the VFX that separates it from modern cinema. Whilst some people may prefer their effects to be CGI and glossy as we often see nowadays, I appreciate the stop-motion of Dick Jones' military weaponry ED-209 as it trudges into the room and malfunctions, shooting up the board member, blood squirting from every bullet wound. Even the bit where the machine toys with the idea of whether it can descend stairs is beautifully done and once again reinforces Verhoeven's vision in making even the smallest details so very powerful.
The performances of the incredible cast in RoboCop are a large part of why the film succeeds. Peter Weller brings heart to a character, both as a human and as a cyborg, with the latter a tremendously difficult task for anyone to take on but he manages to do it so well. Nancy Allen's bubblegum-chewing Lewis provides a brilliant chemistry between the two as Murphy's partner whilst Kurtwood Smith and Ronny Cox both ooze ruthlessness in their respective roles as Boddicker and OCP senior member Dick Jones. Miguel Ferrer's spunky up-and-coming young OCP exec Morton has a likeable quality despite his quest for power and control whilst fellow Twin Peaks star Ray Wise appears to relish his role as one of Boddicker's gang. It really is a delicious cast and each of the performers really throw their all into their characters to make an intimate, tightly-knit, powerful movie.
Like Starship Troopers and Total Recall that came after it, Robocop is unmistakably a Verhoeven film. It has a quirky, off-beat, satirical essence that seems to emanate from many of his movies and this dystopian comic-book-esque effort absolutely shines because of it. What really makes RoboCop is that it can be shockingly brutal, tender and comedic, all in one screenplay, yet keeps it balanced enough to really make an impact on the viewer without it becoming a joke.
RoboCop is more than just an action flick which is why it will continue to stand the test of time.
Rating: