The White Reindeer (1952)
Directed by: Erik Blomberg
Written by: Erik Blomberg, Mirjami Kuosmanen
Starring: Arvo Lehesmaa, Kalervo Nissilä, Mirjami Kuosmanen, Åke Lindman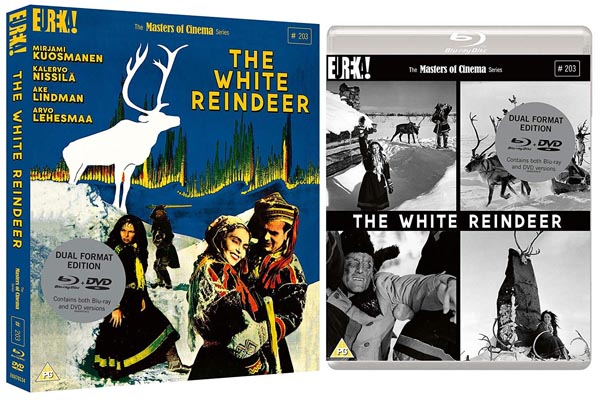 THE WHITE REINDEER (1952)
Directed by Erik Blomberg
Unhappy in her relationship, newly-wedded Pirita seeks out a witch doctor to make her a love potion that will make her sexually desirable to the opposite sex. Whilst her wishes come true, she comes to realise the potion has a side effect that sees her transform into a bloodthirsty, shape-shifting white reindeer.
The directorial debut of cinematographer Erik Blomberg, THE WHITE REINDEER is an hypnotic folk tale based upon Lapland mythology. Running at 68 minutes, THE WHITE REINDEER is a short feature film but one that definitely packs a punch as we see young woman Pirita catch the eye of dashing Aslak during a reindeer-pulled sled race. It isn't long before the two lovebirds get wed but Pirita's dreams of married life aren't all they're cracked up to be. As she attempts to get physical and cuddle in the night, Aslak brushes her off and turns on his side away from her. When Aslak announces he'll be working away for weeks, if not months, herding reindeer away from the fells, Pirita finds herself lonelier than ever. This isolation results in her visit to shaman Tsalkku-Nilla who promises to make her irresistible to the reindeer herders but requires her to sacrifice the first living thing she comes into contact with, which just so happens to be a white reindeer that her husband Aslak had gifted her. Sacrificing it in front of the holy stone, she is granted her wish of being attractive but it comes at a price…
At first, Pirita's shapeshifting is a perk as she is able to get close to the reindeer herders, but then she discovers she has also gained vampiric qualities with an insatiable appetite. It's not long before word gets round that a white reindeer roaming the hills is in fact a witch and when they find out that gunfire has no effect on her, they resort to other destructive means to get rid of the shapeshifter, leaving Pirita fleeing for her life.
For a large part of the running time, THE WHITE REINDEER is a silent movie who's stunning visuals do the talking. Dialogue tends to be only introduced at necessary moments, such as when Pirita visits the shaman or when the villagers discuss the best way to get rid of the witch. Between these scenes, we're treated to sweeping landscape shots that really show off the haunting beauty of Lapland. With the residents in full traditional outfits, this film really reflects a culture which serves as an education to others, not just as a cultural setting for the movie. The people's method of transport in the snow and their actions in their daily lives show a society of hard workers in a harsh, unforgiving climate. In one reflection, the snowy landscape is captivating, but in another it's so isolated and barren that it's enough to paint a terrifying picture, especially if you're a hunted shapeshifter, exposed in the empty, sprawling environment such as the one Pirita finds herself in.
THE WHITE REINDEER is one of those films you simply have to appreciate from a filmmaking point of view. Whilst the plot itself is a bit thin, the way it has been shot and put together is nothing short of amazing. It feels ahead of its time in many ways and accurately captures the despair and tragedy that faces the leading lady, Pirita. The horror element comes from her situation rather than any actual bloody horror whilst the fantasy element creates a fascinating if troublesome dynamic between Pirita and those around her.
A remarkable little film that cinema aficionados will undoubtedly appreciate.
Rating:
Eureka Entertainment have released THE WHITE REINDEER on dual format Blu-Ray and DVD as part of the Masters of Cinema collection and comes with an audio commentary with critic Kat Ellinger as well as a short reindeer documentary With The Reindeer by the film's director Erik Blomberg, who shot the documentary five years earlier. The release also comes with a new and exclusive video essay by Amy Simmons entitled Religion, Pleasure and Punishment: The Portrayal of Witches in Nordic Cinema, a reversible sleeve cover art and a collector's booklet.