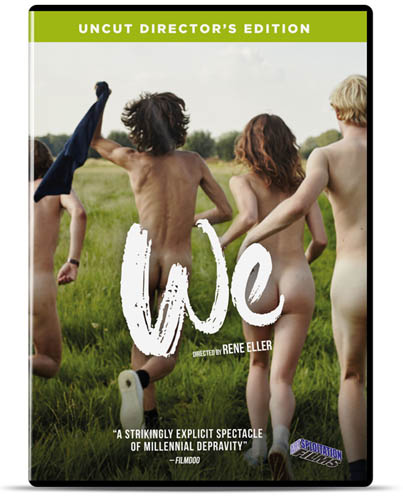 Artsploitation Films has announced the home release of We, a film considered controversial even by Artsploitation's admittedly amoral standards. Director Rene Eller's lurid, unflinching look at a group of youths and their summer of illicit fun will be released on DVD and Blu-ray on February 18th. The film, which enjoyed a long festival run (including Rotterdam, Raindance and Rome), is adapted from the novel "Wij" by Elvis Peeters.
During one hot summer, eight privileged but bored suburban teens begin to pull a series of harmless pranks which quickly escalate into increasingly depraved games. Their descent from innocence to ruthless predators involve arson, prostitution, pornography, assault and blackmail. Drenched in bared flesh and naked nihilism the film is reminiscent of the films of Harmony Korine, Larry Clark and Lars von Trier.
Artsploitation Films will release WE on DVD & Blu-ray February 18th and VOD/Streaming April 14th in the USA.
The DVD and Blu-ray are presented in the original, unedited version. When the film is released on VOD/Streaming in April, most sites (but not all) will offer an edited version, approximately 2 minutes shorter.