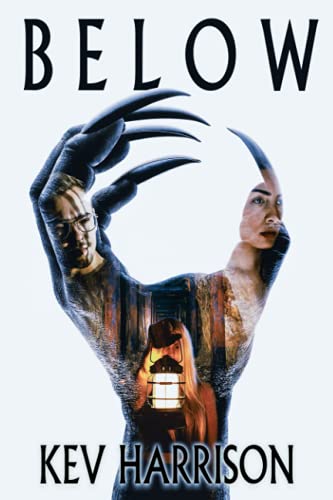 BELOW
By Kev Harrison
Published by Silver Shamrock Publishing
Available in paperback and eBook
Mining engineer Nick is commissioned to host a documentary, alongside social media starlet Jess, investigating a gold mine collapse in Mariposa in the late 1950's which saw his grandfather, Nicholas Jones, and a few others, trapped underground, ultimately losing their lives. Accompanied by camerawoman Sofia, the three head underground to inspect the mine; the first time since the collapse all those years ago. It's not long before they realise some histories are better left alone…
BELOW is a contemporary horror adventure novella from British author Kev Harrison in which we see three individuals thrust into what is essentially a time capsule with some secrets of its own.
From the opening pages, we get a sense about who the characters are thanks to Harrison's descriptive introductions. Everything we need to know about the trio is explained as they prepare themselves for the documentary shoot. Being strangers themselves, the intros work quite well as both the reader and the characters learn about one another before getting their hands dirty underground. The author wastes no time in getting into the heart of the story as the mining shaft is opened, ready to be explored.
Harrison has a natural flow to his writing which makes it not only easy to digest but to imagine yourself in the place of the characters. Going underground and exploring the dark, cavernous rooms feels exciting but also a touch dangerous as well. As the investigation deepens, so does the tension as the further they travel away from the entrance, the harder their escape will be should they need to.
As we know it's a horror story, it's hard to try not to second-guess what's about to happen but even though some things are a little predictable there are other elements that surprise. However,  there are times that I found myself questioning the characters' choices, especially when they looked to venture back into the mine after something unexpected occurs, but maybe that's more of what frightens me rather than the motivations of the characters in the book.
At 137 pages long, BELOW is a short read but a well-formed one that effectively tells its story within its pages. Throughout the story, there's not just scares but genuine emotion explored, such as fear, friendship, determination and hope, as our trio of characters are taken on a rollercoaster journey in what should be a simple documentary shoot. Nick, in particular, confronts truths about the grandfather he idolised from a young age and that in itself is a tough pill to swallow before we even get to other aspects which threaten the production.
Though some aspects of the book felt a little too neat for my taste, BELOW manages to effectively create a claustrophobic, creepy atmosphere that lingers a little after the story has finished. The day I finished reading the story, I ended up in a cave, and I'll admit that reading Harrison's book beforehand probably wasn't the best idea as my mind wandered as to what could be lurking in the darkness.
A fast-paced slice of horror fiction, BELOW invites you to join the characters as an unofficial fourth member in exploring what's hidden inside the Mariposa gold mine. Just remember to take your torch!
Rating: