Romancing The Stone (1984)
Directed by: Robert Zemeckis
Written by: Diane Thomas, Howard Franklin, Lem Dobbs, Treva Silverman
Starring: Alfonso Arau, Danny DeVito, Holland Taylor, Kathleen Turner, Manuel Ojeda, Mary Ellen Trainor, Michael Douglas, Zack Norman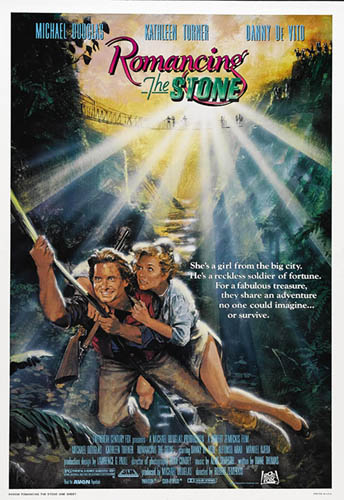 ROMANCING THE STONE (1984)
Directed by Robert Zemeckis
Successful romantic novelist Joan Wilder travels to Colombia in a bid to save her sister who's been kidnapped by a group of treasure smugglers. The kidnappers demand she bring a treasure map, which had been sent to her by her murdered brother-in-law, to exchange for her sister's life. However, when she reaches Colombia, things don't turn out as planned as it seems the kidnappers aren't the only ones after the treasure.
Blending action-adventure, comedy and romance, ROMANCING THE STONE is the fourth feature film from Robert Zemeckis, following car sales comedy Used Cars, starring Kurt Russell, and prior to one of his major hit movies that spawned a trilogy, Back To The Future. Brought to life from a screenplay by Diane Thomas, the film is a spirited, rousing escapade which rivals the ones Joan Wilder conjures up in her best-selling novels.
In the film, author Joan Wilder writes these romantic tales where a mysterious, dashing hero comes to the dame's rescue at just the right moment. Unfortunately, Joan's own love life couldn't be any more different, living alone in her apartment with just her cat Romeo for company. However, it seems fate might just bring her together with her knight in shining armour in the shape of Michael Douglas' smouldering, rough n ready, Jack T. Colton; an exotic bird trader who's recent good luck is about to change with the arrival of Wilder, who finds herself miles away from her coastal destination of Cartagena. Stuck in the jungles of Colombia with thieves and corrupt military on their back, they have to work together to not only save Joan's sister but to survive! But with the lure of treasure being within reach, will Colton decide to give up the hunt for the treasure in order to save the damsel in distress?
ROMANCING THE STONE is tremendously good fun with Kathleen Turner and Michael Douglas bringing sizzling chemistry as the adventurous duo. Their relationship starts off a little lukewarm, with Colton having lost his livelihood and his vehicle as a result of the bus crash which Wilder accidentally helped to cause. This isn't helped when the duo find themselves being shot at and hounded by the police. However, on the run, the two find themselves getting to know each other a bit better and we see their relationship bloom from stranded strangers to partners in crime. However, does Colton have true intentions to help the desperate author or is he taking advantage of her situation in order to bag the El Corazon treasure himself?
There's plenty of comedy in the film too, from the visual to the dialogue, with the odd adult joke that will surely raise a smile that will surely go over the heads of the younger audience. One of my favourite moments from the film is when Wilder and Colton arrive in a village filled with armed bandits. They meet a man called Juan, who the intimidating locals say has got a car, but instead they discover Juan has a Little Mule. Cue some fun exchanges and exciting chase sequence between the three and moustached villain, Colonel Zolo, and his men that ramp up the thrill factor as the two come ever-closer to the treasure that's marked on the map.
Also providing the laughs is Danny DeVito who stars as one of the kidnappers, Ralph. As the cousin of Ira, the crocodile-loving treasure smuggler in charge of the entire operation, he's sent to go and retrieve Miss Wilder from the airport except when she gets on the wrong bus, he's forced to set off on a wild goose chase to try and track her down but finds himself in just as much trouble as she does.
Much like one of her novels, ROMANCING THE STONE is a thrilling fantasy for Joan Wilder and it's so easy to be swept up in its adventure, danger and romance. It's never sickly sweet and just has the right balance of all three to take you on an entertaining journey, with the exotic location of Colombia providing the breathtaking backdrop.
Rating: