PET SEMATARY
by Stephen King
Folio Society edition (hardback with illustrations) available now
Doctor Louis Creed, his wife Rachel and their two kids, five year old Eileen and two year old Gage, relocate to Ludlow, Maine as Louis prepares to start his new job at Maine university heading up the campus medical facility.
It doesn't take the family long to settle into their new property, thanks to the kind, elderly neighbours who live opposite, Jud and Norma Crandall. Having grown up in the area, Jud thrills the Creeds with his tales of the town, Louis in particular who sees Jud as the father he never really had. One summer evening, Jud takes the family on a walk up the track at the back of their property to show them the Pet Sematary – a make-shift graveyard where all the local kids over the decades buried their beloved pets, from hamsters and birds to pet cats and dogs. Even Jud's childhood dog Spot rests there. But what Louis doesn't know is that something lies beyond the Pet Sematary, over the deadfall, on the land that belongs to the Micmac Native American tribe. When the Creed's pet cat Church is killed by passing traffic on the busy road outside their home, neighbour Jud decides to share with Louis that dead isn't always the end, but as Louis eventually finds out, sometimes dead is better.
An introduction from Stephen King proclaims PET SEMATARY to be his scariest work, and it's easy to see why. Taking inspiration from his own experiences at a new home with his kids, King has penned an intense story about loss and how that affects a person.
Stephen King is a master of making you feel at ease with the ordinary day to day lives of people. His words bring to life his characters in a setting (usually Maine) that you can easily envision. Here we have an ordinary family who make the leap of uprooting their life from Chicago and settling down in a new home with new neighbours, friends and location, and for main character Louis, a new job to boot. We discover how united this family unit are as well as past experiences that have make them the people they are today, such as Louis' relationship with his father-in-law.
The threat of death looms early on in the book, and is blown up to epic proportions thanks to the reaction of Louis' wife, Rachel, whose own experience of loss is an uneasy one. A family death left its mark on her as a young girl, and that trauma has only rooted deeper and deeper into her psyche.
King explores concepts of death in its various forms throughout the book, and with Louis we see a very scientific approach thanks to his occupation. But even a man of science can have his judgement clouded by emotion as we see as the story unfolds.
King's descriptive and personable approach feels as though you're with each of the characters you're reading about, like a little angel or demon sat on their shoulder, willing them on or trying to talk them out of the actions they're about to take. It doesn't require much effort to get into their mindset as King's writing almost invites you in to be a participant. This is especially so when things start to go south following the death of the Creed's kitty, Church. With the book having been adapted twice into a movie over the years, most people will know what's going to happen, and you find yourself shouting in your head for Louis to not make the mistake, but with his trust fully in his neighbour Jud, you can't really blame him, especially not having all the facts about what is to ensue.
As PET SEMATARY delves into the realm of horror, the tension grows as you know it's only a matter of time before things get out of hand, whether that's with the actual action or the discovery made by others. It feels as though it's all predetermined in many ways, as no matter what the characters do, they'll get sucked into it all the same, unable to avoid the pitfalls and unable to resist that feeling of being reunited with what has been lost and snatched from you. It does make you think what you'd do in the same situation, if given the choice, and it's easy to see why Louis makes the decisions he does. It's from a place of love and his own inability to overcome loss. Perhaps there's even a bit of selfishness there, but not in the traditional sense – just in the emotional heartbreak of it all, the unbearable grief, and wanting to be reunited, whatever the cost may be. That's before we consider what other-worldly forces may be at work to influence such a decision.
As I often find with King's works, the ending of PET SEMATARY isn't as powerful as the beginning and overall build up of the story, and feels a bit rushed as a result. I felt it could be played out in more depth and detail, considering this is the moment the book had been building up to. Despite my yearning for a more substantial conclusion, the ending brings things to a close in a fitting way that compliments the rest of the story and embraces the supernatural themes that are littered throughout.
Rating: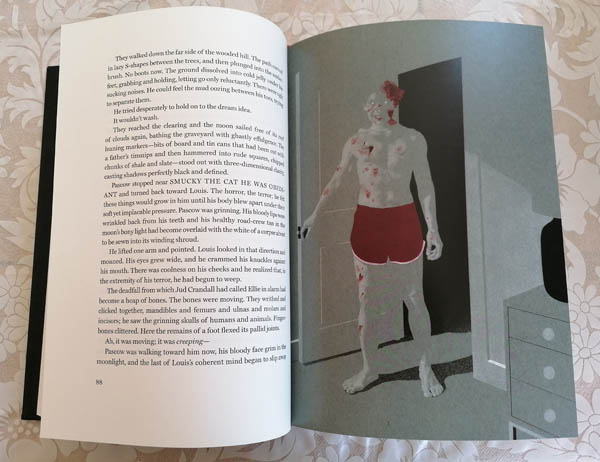 First published in 1983, PET SEMATARY has gone through many iterations. More recently, Folio Society has added it to their catalogue of special releases for the story's 40th anniversary which sees the book presented in hardback form with a plain black slipcase, with a striking cover of Church the cat prowling back into the light from the darkness. Inside, the book contains a selection of coloured illustrations that have been inserted to the respective parts of the book it reflects. These pieces of artwork are printed on thicker paper and do not feature any text of the story printed on the back, so they are very much inserted pages. The artwork itself is quite fitting and is close to how I imagined the scenes myself so kudos to the award-winning artist Edward Kinsella who's managed to capture a vision from King's words. It's a beautiful, big, thick book with large printed text making it easier to consume, with the story spanning 458 pages. For collectors of books, this is a most welcome edition to adorn the shelf and seems incredibly well made with the book itself bound in blocked cloth and featuring red detail on the inside at the spine, matching the colour contrast of the cover's design.