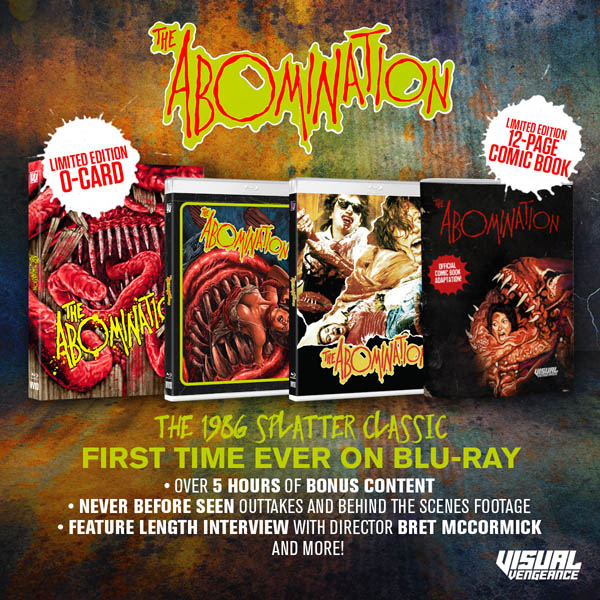 Visual Vengeance, a Blu-ray label dedicated to vintage 'Shot on Video' and microbudget genre independents from the 1980s though 2000s, reveals its next Blu-ray collector's edition release for September 2023:
Bret McCormick's legendary 1986 Super 8 splatter fest THE ABOMINATION (1986).
Deep in the heart of rural Texas, a TV evangelist exorcises a tumour from the body of a loyal worshipper, who soon coughs up the growth. Unknown to her, the cancer is actually a carnivorous life form that slithers its way into her son Cody while he sleeps, growing inside him until he is completely under its control. Now Cody must feed the beast fresh victims to keep them both alive, as the monster grows out larger and larger, threatening to feast on everyone in its path.
One of the most requested titles for Blu-ray release from the video store era, Bret McCormicks's The Abomination enjoys its first ever release on Blu-ray with newly created bonus features and never before seen outtakes, behind the scenes footage, images and more!
The Blu-ray is set to release on September 29th, 2023.
Info and Select Bonus Features:
New producer-supervised SD master from original master tapes
Limited Edition Slipcase by The Dude – FIRST PRESSING ONLY
12 page mini comic book – FIRST PRESSING ONLY
Commentary with Director Bret McCormick
"Monster Kid Movie Maverick" – Brand New, Feature-Length Bret McCormick Interview (2022)
Actress Blue Thompson Interview (2022)
Actress Victoria Chaney Interview (2022)
Interview with The Abomination's Original VHS distributor: Michael Jack Shoel (Donna Michelle Productions) (2022)
The Abomination – Filming Locations Tour (2022)
Super 8 Outtakes and Raw Footage – Reel 1
Super 8 Outtakes and Raw Footage – Reel 2
Image Gallery
Bret McCormick – Original Super 8 Films
6 page Booklet with Essay by Tony Strauss
Stick Your Own' VHS Sticker Set
Reversible Sleeve Featuring Original VHS Art
And more!